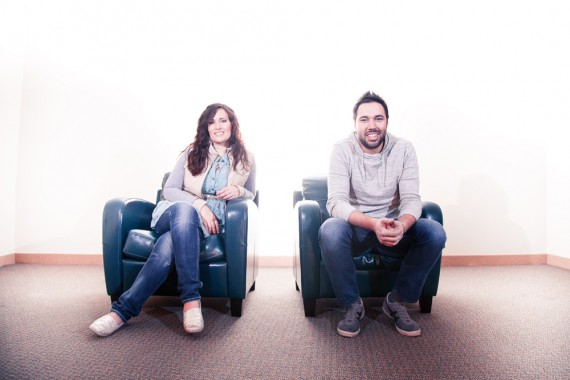 Theodore Roosevelt once said,
"You may worship God anywhere, at any time, but the chances are that you will not do so unless you have first learned to worship Him somewhere in some particular place, at some particular time."
We know that congregational worship is important, but let's be honest. Sometimes as worship leaders, we wonder why we do what we do.
With such great worship albums out there, why are we needed? If we can have such great worship experiences in our homes and in our cars, why is congregational worship so necessary?
That is the question we tackle in today's podcast. In addition, I also interview husband and wife duo, Brad & Rebekah about their new album "When We Gather", which is now released!
At the end of the post, I'll let you know how you can win one of 5 copies.
Click to Listen
Podcast: Play in new window | Download
3 Reasons Why Congregational Worship Is So Important
1. Because of God's Glory
"So music and singing are necessary to Christian faith and worship for the simple reason that the realities of God and Christ, creation and salvation, heaven and hell are so great that when they are known truly and felt duly, they demand more than discussion and analysis and description; they demand poetry and song and music. Singing is the Christian's way of saying: God is so great that thinking will not suffice, there must be deep feeling;and talking will not suffice, there must be singing" – John Piper
2. Because the Bible Emphasizes It
"And let us consider how we may spur one another on toward love and good deeds, not giving up meeting together, as some are in the habit of doing, but encouraging one another—and all the more as you see the Day approaching" – Hebrews 10:24-25
3. The Christian Life is About Community
"Before the God who is a consuming fire, we don't shuffle in casually. We don't demand our artistic preferences. We don't merely gather with our friends. We don't merely sing together. As the people of God, we enter into the very presence of God. Encountering God in this way is the very nature of the church. By definition, to be the church is to gather in God's presence and to worship God together. And when we begin singing, we join the glorious worship that takes place unceasingly before the throne of God" – Jeff Purswell
Post Resources
Subscription Links
Your Feedback
If you have an idea for a podcast you would like to see, a special guest you'd like to hear from, or a question for an upcoming episode, please email me.
If you enjoyed the show, I would be so appreciative if you would rate it on iTunes and write a brief review. That helps me so much! Thanks.
How to Win a Copy
In order to win a copy of Brad & Rebekah's new album, simply leave a comment below! I will pick the winners next week!
Question: Why do you think congregational worship is so important? You can leave a comment by clicking here.