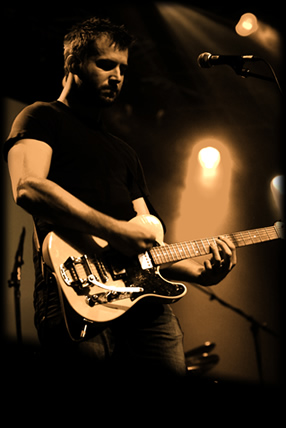 Though great gear is important, it doesn't make you a great musician.
Great music comes from the heart, mind, and hands of a hard working person.
I had the opportunity to sit down with my friend Ben Gowell and discuss all things musicality, local church ministry, working with Paul Baloche, and electric guitar gear.
Ben is a massively talented producer, mixer, worship leader, songwriter, and lead guitarist. He plays guitar for Paul Baloche, Sara Groves, Michael W Smith, and does a host of session work as well.
Pull out the moleskins, folks. Time to take copious notes 🙂
Click to Listen
Podcast: Play in new window | Download
How to Increase Your Team's Musicality
– Don't buy into the myth that getting the most expensive gear will solve your musicality issues.
– Musicality comes from the fingers and brain of the musician.
– Listen to a lot of musical styles. Hone in on what parts & tones these musicians are playing.
– We are a product of our influences. Embrace that.
– Practice with a metronome – work on your sense of internal time.
– Record your band rehearsals for critical listening.
– Cast a vision for excellence.
– Start a coaching program – stronger players doing lessons with younger players.
– Give yourself a "tone education".
How to Increase Your Chances of Getting "Hired"
– Put down the movies & Playstation and work super hard 🙂
– Play as much as possible – say YES to as many opportunities as you can.
– Show up really prepared.
– Most of the time, people don't want you to come in and improvise your great ideas over the songs. Know the parts and play the parts perfectly.
– Be a good person to work with. If you enjoy being around people, people will enjoy being around you. Be a good "hang".
– Respond well to criticism.
Resources Mentioned in this Post
Subscription Links
Your Feedback
If you have an idea for a podcast you would like to see, a special guest you'd like to hear from, or a question for an upcoming episode, please email me.
If you enjoyed the show, I would be so appreciative if you would rate it on iTunes and write a brief review. That helps me so much! Thanks.
Question: What was your biggest takeaway from the interview with Ben? Join the discussion and leave a comment by clicking here.
Like what you read?

If so, please join over 5000 people who receive exclusive weekly online worship ministry tips, and get a FREE COPY of my eBook, Beyond Sunday! Just enter your name and email below: