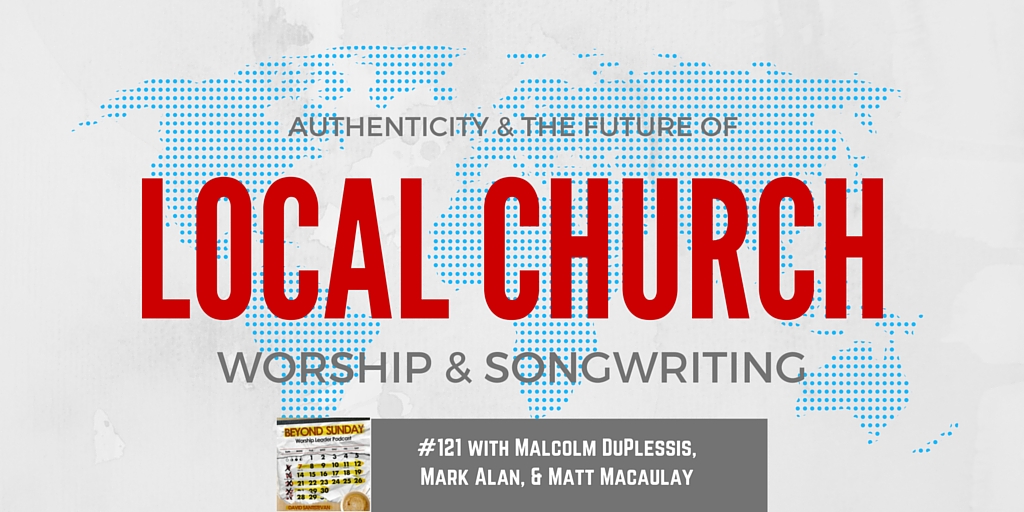 Podcast: Play in new window | Download
The 60's saw the innovation of the worship leader. The 70's saw the innovation of the worship genre. The 80's saw the innovation of the seamless worship set. The 90's saw the worship leader upgraded to the worship band. And the millenium has seen all of these four ingredients coalesced together in the produced, minute-by-minute worship experience." – Malcolm DuPlessis
Today's interview marks our first 4-person conversation. And it's a good one. I had the privilege of talking with the team from Common Exchange, an initiative to help the church transition from an audience of consumers to a kingdom of priests where everyone has a part to play.
I honestly feel like this is the conversation we all need to be having. It's time for every nation, tribe, and tongue to have a voice in the modern worship movement. It's time for more songs to be sung from different cultures around the world.
We welcome back Malcolm DuPlessis, a consultant and prophetic voice to to many high profile artists and leaders. Also, worship leader/songwriter Mark Alan joins us from Emmanual Christian Center in Minneapolis, MN, as well as Matt Macaulay, British worship leader/songwriter now living in Chattanooga, TN.
Buckle your seat belts. Get out your moleskins. It's a good one.
Click to Listen
Podcast: Play in new window | Download
In this Episode You'll Hear More About:
Why worship is so important.
What young worship leaders need to focus on.
What we need to seek instead of fame and attention.
What it means to be an authentic worship leader.
How to stay authentic in both small and mega church environments.
When the pendulum swung from church being about loving people to being about excellent production.
What the "priesthood of believers" means for modern worship.
What we can do to foster indigenous worship songwriting.
It's impossible to try and be authentic. To just be comfortable in one's own skin is a great gift." – Malcolm DuPlessis
Resources Mention in this Episode:
Subscription Links
"Jesus came to be a servant, not to be famous." – Mark Alan
Thanks For Listening!
If you enjoyed this episode, please share it using the social media buttons you see at the bottom of the post. So helpful!
If you have an idea for a podcast you would like to see, a special guest you'd like to hear from, or a question for an upcoming episode, please email me. If you enjoyed the show, I would be so appreciative if you would rate it on iTunes and write a brief review. That helps me so much! Thanks.
And thanks to Malcolm, Mark, & Matt for sharing with us!
Question: What's your biggest takeaway from this interview? Always love to hear from you! You can leave a comment by clicking here.
Like what you read?

If so, please join over 5000 people who receive exclusive weekly online worship ministry tips, and get a FREE COPY of my eBook, Beyond Sunday! Just enter your name and email below: