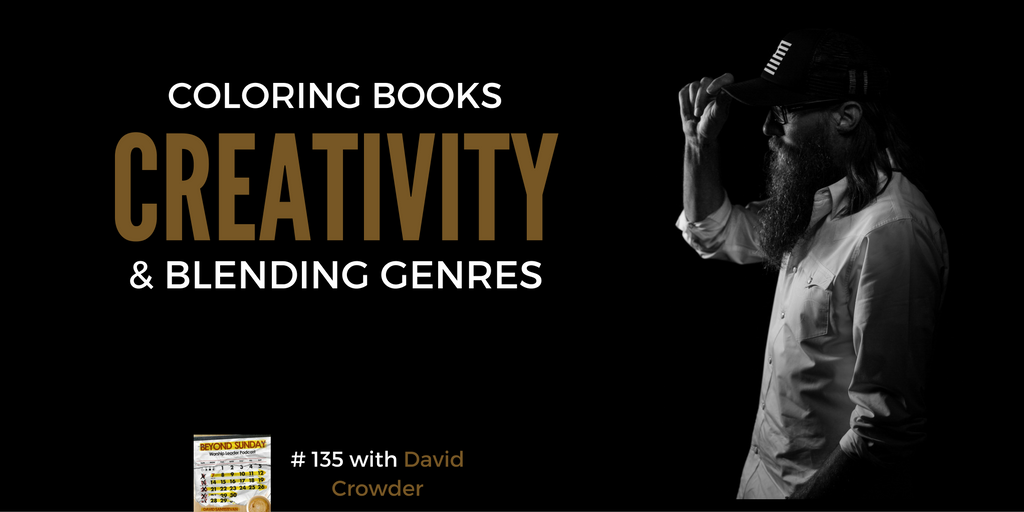 The term worship music seems to diminish the word worship and make the word music more important." – Crowder
A conversation with David Crowder is equal parts hilarious and educational. Busy in the middle of his American Prodigal tour, David called in from his tour bus out west to discuss…well, lots of stuff. We talk about creativity, coloring books, what we can learn from EDM & bluegrass, the new album, and more.
By the way, his new record is straight fire. I love it. Do yourself a favor and go listen to "Back to the Garden" now. Insane.
And enjoy this chat!
Click to Listen
Podcast: Play in new window | Download
Show Sponsor
The sponsor for today's show is a simple, beautiful new app called Chordmatic. One of the skills any great worship musician needs is transposition. One week a song may be in B. Another week, it may be in D. Sometimes keys change on the fly. Chordmatic is one of the quickest ways I've seen to transpose chords right from your smartphone.
In the middle of a rehearsal, you can plug the chords in to the app and email it to everyone else on the team. I also love that you add your capo position to determine the proper key as well.
Check it out at getchordmatic.com. It's a $1.99 well spent.
In this Episode You'll Hear More About:
Coloring books for adults
Doug, the tool man with more swagger than you can imagine.
The importance of having great people around you to challenge you.
The story behind the first song Crowder wrote.
When David new he wanted to do music full time.
Why David doesn't feel his music is adventurous.
What it means to be a curator of creativity.
Why Crowder utilizes lots of different instruments, sounds, and lots of tracks on his records.
The difference between Neon Steeple & American Prodigal.
What the genres of EDM & bluegrass contribute to corporate worship.
The banjo being an African instrument.
How David feels about the term worship music and what he prefers instead.
Resources Mentioned in this Episode:
Subscription Links
Your Feedback
If you have an idea for a podcast you would like to see, a special guest you'd like to hear from, or a question for an upcoming episode, please email me or leave a voicemail.
If you enjoyed the show, I would be so appreciative if you would rate it on iTunes and write a brief review. That helps me so much! Thanks.
Question: What was your biggest takeaway from this interview with Crowder? You can leave a comment by clicking here.
Like what you read?

If so, please join over 5000 people who receive exclusive weekly online worship ministry tips, and get a FREE COPY of my eBook, Beyond Sunday! Just enter your name and email below: