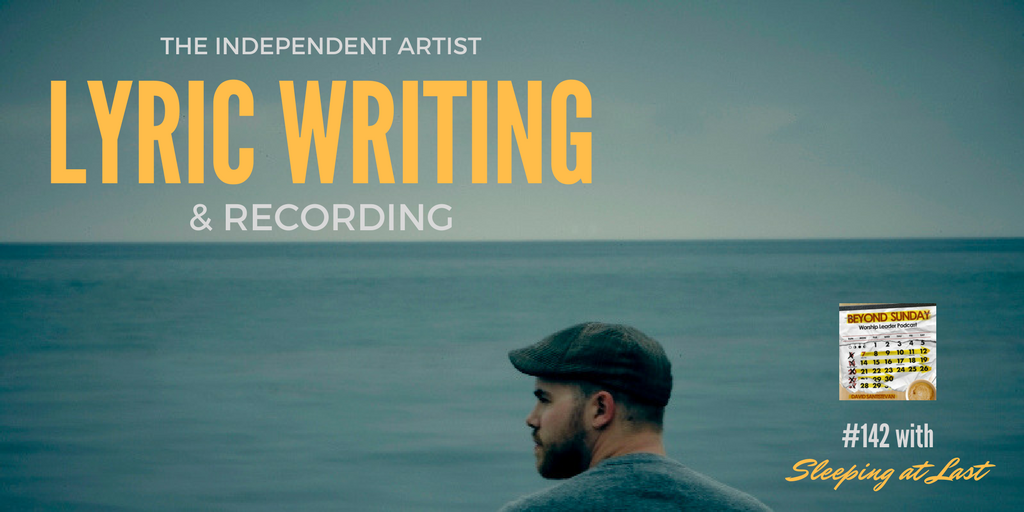 The writing process is always hard, but if you keep pushing through it you get more adjusted to the difficulty of writing songs." – Ryan O'Neal
If there's anyone who knows how to write lyrics and melodies, it's Ryan O'Neal from Sleeping at Last. For years I've been inspired by how Ryan approaches his craft – with discipline, hard work, joy, and purity. If you've never heard his music, you're welcome. Now is the time.
Ryan isn't your typical musician – rather than releasing an album every 3 years, he releases new songs every month. He's done this for years now and it has worked incredibly well for him. In addition to all his albums and projects, his music has been featured on TV shows like Grey's Anatomy, Ellen, So You Think You Can Dance, and commercials for Mercedes Benz, Budweiser, and more.
Trust me, his music will help you savor life more, persevere through hard times more, and help you see the beauty in all things.
Today we talk about creative process, lyric writing, software instruments, recording, production, movies, and more. Let me know what you think!
Click to Listen
Podcast: Play in new window | Download
Show Sponsor
Today's podcast is brought to you by Coresound. Coresound is an amazing new company that provides pad loops for your worship services.
What are pad loops, you may say? Essentially, it's like the best keyboard sound or guitar swell you've ever heard, sitting underneath your live worship team. It's helps to create a beautiful, patient atmosphere for your worship team and fill out the sound.
They're a great investment if you have a smaller worship team or if you have a large team but want to create a bigger sound and improve your transitions. We've used them quite a bit at my church. We've actually done a two piece setup with me on a guitar, pad loops, and a drum pad and it sounds HUGE. And of all the pads I've tried, Coresound are the best sounding. By far.
I have the Deluxe bundle which comes with 6 different sounding pads in all 12 keys. It's amazing because you literally have an arsenal of versatility for your worship team. Load them up on your smartphone, tablet, or laptop and you're good to go. Whatever you play within the key of the pad loop sounds amazing, and each pad lasts for about 20 minutes.
So here's the deal: head on over to coresoundpads.com and use the promo code "beyondsunday" and get yourself 20% off any purchase.
In this Episode You'll Hear More About:
Ryan's favorite movies of 2016
Thoughts on how artists should release their music – albums or singles?
How to overcome writer's block
Ryan's guiding principles for lyric writing
Why Ryan doesn't demo anymore
Workflow and process for being a self employed musician
The dynamic of using software and real instruments in recording
Some of Ryan's favorite software instruments
To Spotify or not to Spotify?
Resources Mentioned in this Episode:
Music: Ghosts by Sleeping at Last
Subscription Links
Your Feedback
If you have an idea for a podcast you would like to see, a special guest you'd like to hear from, or a question for an upcoming episode, please email me.
If you enjoyed the show, I would be so appreciative if you would rate it on iTunes and write a brief review. That helps me so much! Thanks.
Question: What was your biggest takeaway from this interview with Sleeping at Last? You can leave a comment by clicking here.
Like what you read?

If so, please join over 5000 people who receive exclusive weekly online worship ministry tips, and get a FREE COPY of my eBook, Beyond Sunday! Just enter your name and email below: