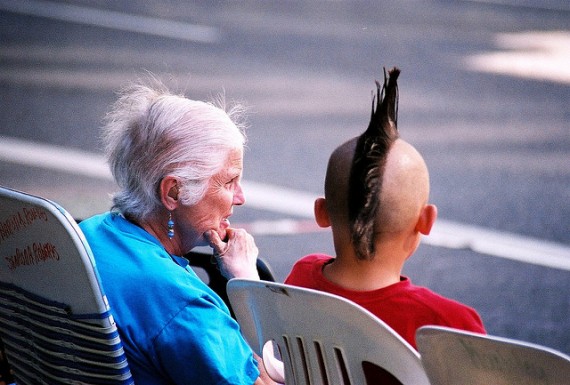 Today's show is all about the joys & challenges of leading multi-generational worship.
It's impossible to be a worship leader without facing this tension – the tension of leading worship for young and old.
This has been the cause for many church fights and worship wars, but also when done right, can be a true source of joy to see the generations standing together under the banner of God's glory and worshiping together.
Today's podcast is designed to help you navigate that tension and give you some strategies for leading your church more effectively.
Click to Listen
Podcast: Play in new window | Download
What You'll Learn in this Episode
The Challenges of Leading Multi Generational Worship
Musical taste differences
Media taste differences
Service programming taste differences
5 Tips for Leading More Effective Multi Generational Worship
1. Love Jesus – I know, obvious, right? You would hope so – but this is a life calling that can never be taken for granted. Check out Psalm 119:37
"Turn my eyes from looking at worthless things; and give me life in your ways."
Don't forget this truth: They may not love your music, but they will connect with a heart after God.
2. Love people more than music – I have a choice every time I lead worship. You do too. Will I just hide in my creative bubble and make music or will I love the people God has called me to serve? A massive difference and it's what makes worship leading so special.
It's not just about the cool, anthemic, emotional music. It's about loving people and caring deeply about their encounter with Jesus. So do this: have conversations with people off the stage. Listen to their stories. Make prayer for your congregation a part of your weekend todo list.
3. Share stories – Corporate worship leading is such a relational experience, isn't it? It's different than a concert where the audience is watching you perform. In a sense, a worship service is the entire room performing together. I like to encourage the congregation that we're all a part of the worship team and the Holy Spirit is our leader. And a great way to build this connect is for you to share stories before you sing songs.
4. Choose a wide range of songs – If you're leading for a multi generational church, you can't just cater to one generation. You've got to consider everyone who is there. That doesn't mean you need to be a style schizophrenic – moving from Gaither to Gungor to Hillsong to Gregorian Chants.
It's about wanting to pastor the different people represented in your church. It's about choosing songs that minister to them. If you're curious as to what your congregation is like, ask your pastor. He knows and can give you some great insight into the songs you choose.
5. LEAD the Room – Lead with boldness and lead with compassion. Lead with humility and lead with passion. Lead with tenderness and lead with a burning heart. But for God's sake, LEAD. Don't just sing…don't just perform…don't just pull off a setlist. Be present in the moment. Step into your anointing. You have been appointed by God and given authority to to lead, shift the atmosphere, call people higher, and stir their affections for Christ.
Resources Mentioned in this Episode
Subscription Links
Your Feedback
If you have an idea for a podcast you would like to see, a special guest you'd like to hear from, or a question for an upcoming episode, please email me.
If you enjoyed the show, I would be so appreciative if you would rate it on iTunes and write a brief review. That helps me so much! Thanks.
Question: What challenges are you facing as you lead multiple generations in worship? Let's talk in the comments. It's always better that way.
Like what you read?

If so, please join over 5000 people who receive exclusive weekly online worship ministry tips, and get a FREE COPY of my eBook, Beyond Sunday! Just enter your name and email below: