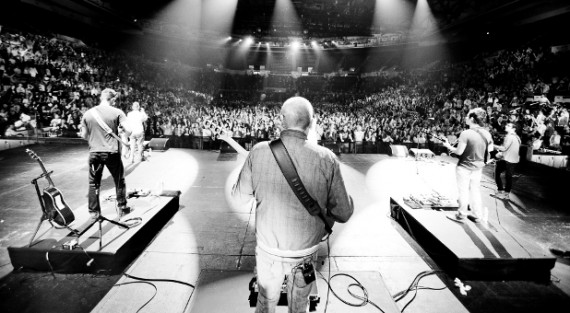 Worship ministry isn't just about your personal worship.
It's not just about caring for our own hearts. Otherwise we could just stay in the congregation, right? Worship ministry is also about the hearts of the people we serve.
We have a calling and a responsibility to lead, love, and pastor people in their pursuit of God. We need to connect.
That's what today's podcast is all about and I'm glad you're along for the ride.
Click to Listen
Podcast: Play in new window | Download
Tweetable Quotes
Show Notes
Worship ministry is about a driving passion for people to experience the presence God. We want others to encounter what we ourselves have encountered. To see what we have seen. It's an outflow of Psalm 34:8
"Oh, taste and see that the Lord is good! Blessed is the man who takes refuge in him!"
If you stop tasting and seeing. You'll have nothing to give, nothing to offer, nowhere to lead others. Conversely, if you stop connecting, you will have no impact.
5 Gifts Worship Leaders Give to Their Congregation
There's 5 ways you can serve your church – to help create a context of worship:
#1: Your Passion
They may not always like your music, but worshipers connect with worshipers. Worshipers don't want to be entertained. Burning hearts connect with burning hearts. Guard your passion. Guard your fire. Ask God to light it each and every day. That's the battle – to stay amazed and in awe of the glory of God. Your passion is a gift that you give to your congregation.
Check out this quote from John Piper in A Hunger for God:
"If we don't feel strong desires for the manifestation of the glory of God, it is not because you have drunk deeply and are satisfied. It is because we have nibbled so long at the table of the world. Our soul is stuffed with small things, and there is no room for the great." – John Piper
I Also love Romans 12:11 –
"Never be lacking in zeal, but keep your spiritual fervor, serving the Lord."
That's where the battle lies. It's no a battle of achieving the highest creativity. It's not the battle to be more organized than another church. It's not a battle to write the greatest songs.
Effective worship leading has always been a battle to "never lack in zeal and keep your spiritual fervor."
#2: Your Proficiency
Develop a relationship with your instrument. Know it enough so you don't have to think about it.
If you're a guitar player, you don't want to wonder what G,C, & D is.
If you sing, internalize the lyrics.
If you play drums, work until your grooves become an extension of you. Make it muscle memory.
I remember when I was young…I didn't know what I was doing. It was probably scary to see me on stage because I was so freaked out. But over the years, I've developed a relationship with my instrument. I haven't arrived, by far, but now instruments are a tool in my hand to be used by the Holy Spirit whenever He wants to move.
And let me say this… You don't have to be the best. God hasn't called you to be the best. He's called you to be faithful where he's placed you with what he's given you. I'm not saying you should be perfect before you start. I'm challenging you to begin a lifelong process of learning and discovery of your instrument.
#3: Your Preparation
Know the music – Chords, songs, lyrics
Know your God – God convicted me: "David, you can whip the room into an emotional worship frenzy on stage but when you're alone with me, you have nothing to say…"
Know how to flow – Flow is the dance between knowing the music (practicals) and knowing your God (purpose). It's a developed skill that comes from spending time in both worlds. It's when a worship set becomes not a jumbled list of isolated songs but a Holy Spirit led journey into His presence.
#4: Your Perspective
It was a rude awakening when the Lord spoke to me and said, "Your church isn't coming to hear your creativity. They're coming to meet with me. Are you helping with that connection?" This perspective is a gift that you give.
Think about it. Your church isn't a room full of twenty something musicians excited about cutting edge music and creativity. Sure, there may be some. But for the most part, your church is full of average, everyday folks who are desperate for Jesus whether they know it or not.
You are a facilitator of that connection between Christ and the single Mom who wants to throw in the towel. You are connecting Christ and the 16 year old kid who was molested by his Father. You are connecting the lonely widow with "One" who never leaves us or forsakes us.
We had Rick Bezet to our church to speak at our leadership conference called Ignite. My biggest takeaway: What's the single best way to lead worship on? Visualize one person in the room who is hurting…and play for them. Lead for them.
#5: Your Participation
Something happens in your ministry when you become a champion of the local church, not just a champion of your worship ministry. Breakthrough comes when you "seek first the kingdom of God."
This, my friend, is a gift that you give to your congregation: your participation in the local church. Know your people. Love your people. Serve your people. Own the vision.
Here's a few questions to ask yourself:
What's a story you've heard recently from a worshiper in your church?
What is God doing in your local community?
How are you planning to serve people better as a worship ministry?
Resources Mentioned in this Episode
Subscription Links
Your Feedback
If you have an idea for a podcast you would like to see, a special guest you'd like to hear from, or a question for an upcoming episode, please email me. If you enjoyed the show, I would be so appreciative if you would rate it on iTunes and write a brief review. That helps me so much! Thanks.
Question: What struggles are you facing in connecting with your congregation? Let's talk about it in the comments. It's always better that way.
Like what you read?

If so, please join over 5000 people who receive exclusive weekly online worship ministry tips, and get a FREE COPY of my eBook, Beyond Sunday! Just enter your name and email below: