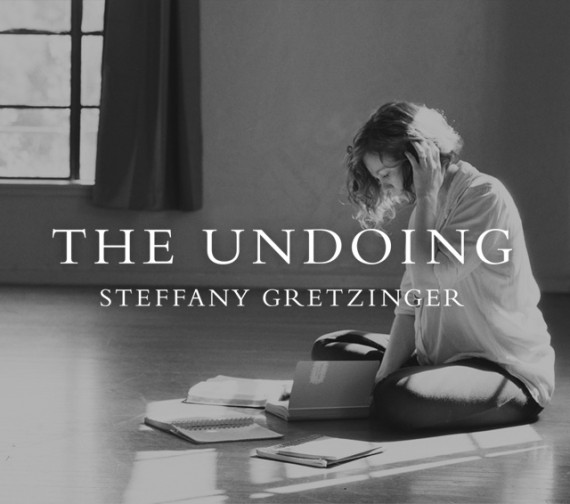 Worship isn't a job. It's not a skill, a craft, or a career.
Worship is a life in pursuit of Jesus. And that's what I talked about with Steffany Gretzinger from Bethel Music.
Steffany is an incredible artist, songwriter, and worshiper who has just released her first album, The Undoing.
What I love about Steffany is how she is completely dialed in to the heart of her music. It's not just about the business. She loves Jesus and wants others to experience his presence.
Don't miss our conversation!
Click to Listen
Podcast: Play in new window | Download
Scripture of the Week
Psalm 55: 16-19, 22
"But I call to God, and the Lord will save me.
Evening and morning and at noon I utter my complaint and moan, and he hears my voice.
He redeems my soul in safety from the battle that I wage, for many are arrayed against me.
God will give ear and humble them, he who is enthroned from of old, because they do not change and do not fear God.
Cast your burden on the Lord, and he will sustain you; he will never permit the righteous to be moved."
Tweetable Quotes
What You'll Learn in this Episode
The importance of not holding back
Being moved and creating from that place
The difference between position and presence
How to engage a congregation in worship
The importance of leading yourself in worship
What it means to be undone in God's presence
On being vulnerable, uncomfortable, and doing hard things
Steffany's thoughts having her first baby and releasing her first album at the same time
How Steffany and her producer, Jeff Schneeweis approached production for this album
Resources Mentioned in this Episode
Subscription Links
Your Feedback
If you have an idea for a podcast you would like to see, a special guest you'd like to hear from, or a question for an upcoming episode, please email me. If you enjoyed the show, I would be so appreciative if you would rate it on iTunes and write a brief review. That helps me so much! Thanks.
Question: What was your biggest takeaway from this interview with Steffany? You can leave a comment by clicking here.
Like what you read?

If so, please join over 5000 people who receive exclusive weekly online worship ministry tips, and get a FREE COPY of my eBook, Beyond Sunday! Just enter your name and email below: