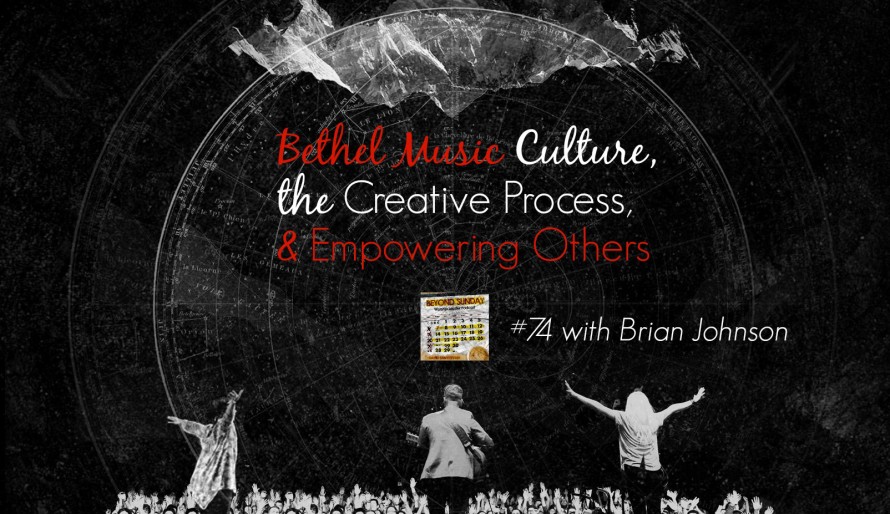 Podcast: Play in new window | Download
My guest this week is no stranger to the worship community: Brian Johnson from Bethel Music.
I've looked forward to this interview for a long time. Brian is an incredible songwriter & worship leader. But what I love most about he and his wife Jen is how they empower people.
Brian & Jen are such a testimony of what it means to create a culture people want to be a part of – a culture that attracts great people and a place where those people thrive. It's not about a single personality. It's about the community.
This interview was one of my favorites and is just full of tons of actionable advice for you. I hope you enjoy it as much as I did recording it!
Click to Listen
Podcast: Play in new window | Download
Tweetable Quotes:
"If you want to be great, find something small and be great at it for a long time" (Tweet it).
"God gives you small ideas to be stewarded into complete ideas" (Tweet it).
"Insecurity & pride will make you a small person for the rest of your life" (Tweet it).
"Don't live by people's accolade or by people's critique" (Tweet it).
"Establish a vision and cast it weekly to your team" (Tweet it).
In this Episode, You'll Hear More About:
Why Brian is excited about this particular Bethel Music project.
What Brian does when he's not writing songs and leading worship.
What Team Nights are like at Bethel Music.
How to create a healthy team environment.
What it means to empower people over controlling them.
The importance of doing ministry at a relational level.
How to find your voice as a worship leader.
The importance of pulling influences from a lot of different camps.
How Brian approaches songwriting & co-songwriting.
A behind the scenes look at the creative vision and ideas behind We Will Not Be Shaken.
How Brian would build a worship team from scratch.
The never ending tension of balancing family & ministry.
Links & Resources Mentioned in this Episode:
Gear: High Strings for acoustic guitar (Westwood music 310.478.4251, ask for Mark Bookin)
Subscription Links
Thanks For Listening!
If you enjoyed this episode, please share it using the social media buttons you see at the bottom of the post. So helpful!
If you have an idea for a podcast you would like to see, a special guest you'd like to hear from, or a question for an upcoming episode, please email me. If you enjoyed the show, I would be so appreciative if you would rate it on iTunes and write a brief review. That helps me so much! Thanks.
A huge thank you to Brian Johnson for sharing with us!
Question: What was your biggest takeaway from the interview with Brian? Always love to hear from you! You can leave a comment by clicking here.
Like what you read?

If so, please join over 5000 people who receive exclusive weekly online worship ministry tips, and get a FREE COPY of my eBook, Beyond Sunday! Just enter your name and email below: