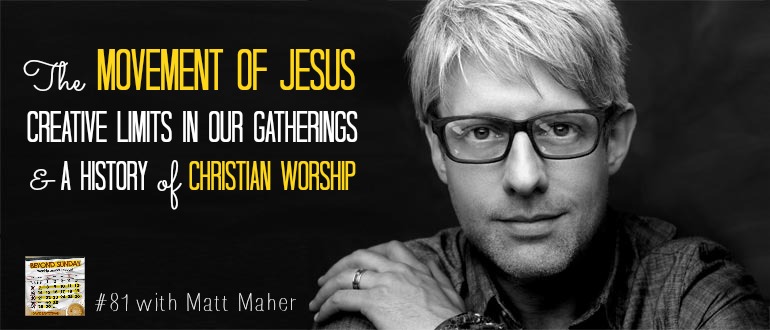 Podcast: Play in new window | Download
Ever get frustrated by how simple worship music is?
Maybe it's not such a bad thing. And is it possible to be too creative in our corporate gatherings? This and so much more is covered in my conversation with Matt Maher. He has tons of wise, enlightening, practical advice to share with us today. His new album Saints & Sinners has just released and is amazing.
I've been wanting to talk with Matt for some time now. I love the depth of his songwriting and his heart for unity across denominational lines (he is Catholic). I love podcast interviews that veer off the page and take some interesting turns.
This isn't to be missed!
Click to Listen
Podcast: Play in new window | Download
Show Sponsor
This podcast is brought to you by MultiTracks. MultiTracks is my go to spot for creating CustomMixes for my worship team. I literally use it every single week. The latest CustomMix we used is "Jesus We Love You" from Bethel Music. The georgeous string arrangements add such a fullness to the mix.
If you're confused on how to use MultiTracks, you don't need expensive, crazy software. Just check out their amazing iPad app called Playback. Seriously beautiful.
In this Episode You'll Hear More About:
The global, massive movement of Jesus.
Why being a nerd is necessary for enjoying life.
Matt's embarrassing moments on stage.
Matt's musical journey through piano lessons, rock & roll, jazz in college, & songwriting.
Using already written prayers and using them in your songwriting.
Why worship music should be simple and have aesthetic and creative limits.
Matt's catholic faith and what it means to him.
Why stained glass windows, incense, and organs have special significance in church.
Lighting in churches – why early Christians had to pray in the dark, why cathedrals were built so light would enter, and why most modern churches worship in the dark.
Whether our modern church aesthetic choices are helping or hindering us.
Why every church and denomination has a liturgy.
Why we need to put twice as much energy into praying with people as we do writing music.
The prayerlessness of the modern church.
The problem with creating services where we communicate to God but don't hear from Him.
What worship songwriters need to focus on.
Why worship songs aren't primarily a theological teaching device.
Why How Great is Our God and Oceans are powerful songs.
The theme behind Matt's new album, Saints & Sinners.
Resources Mentioned in this Episode:
Subscription Links
Thanks For Listening!
If you enjoyed this episode, please share it using the social media buttons you see at the bottom of the post. So helpful!
If you have an idea for a podcast you would like to see, a special guest you'd like to hear from, or a question for an upcoming episode, please email me. If you enjoyed the show, I would be so appreciative if you would rate it on iTunes and write a brief review. That helps me so much! Thanks.
And thanks to Matt for sharing with us!
Question: What's your biggest takeaway from this interview with Matt? Always love to hear from you! You can leave a comment by clicking here.
Like what you read?

If so, please join over 5000 people who receive exclusive weekly online worship ministry tips, and get a FREE COPY of my eBook, Beyond Sunday! Just enter your name and email below: