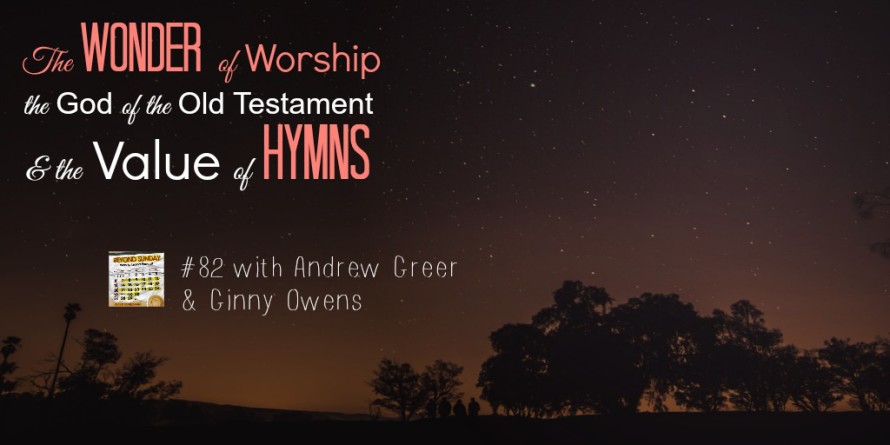 Podcast: Play in new window | Download
So honored to have some new friends on the podcast this week. Andrew Greer is a Dove award-nominated singer/songwriter and Ginny Owens is a 3 time Dove award winning artist. What's interesting about this interview is both of them are first time authors, here to discuss their new book Transcending Mysteries: Who is God and What Does He Want from Us?
I loved the twists and turns in this conversation: songwriting, book writing, knowing God, hymns, leading worship: it's all here. Enjoy!
Click to Listen
Podcast: Play in new window | Download
In This Episode You'll Hear More About:
The difference between writing an album and writing a book.
Why Ginny & Andrew decided to write this book together.
Who the Old Testament needs to be read and considered as a whole.
Why so many people love Jesus but struggle with God.
Why we need recapture a sense of mystery and awe in our worship.
Why we need to vulnerable, open, and own our brokenness.
Quote: "It's OK to realize you're crazy and damaged. All the best people are." – Anne Lamott
What your greatest contribution is as a worship leader in corporate worship.
Why hymns are important for corporate worship.
Some of Andrew & Ginny's favorite hymns.
Pulling lyrics from public domain hymns in your songwriting.
The hardest thing about songwriting.
Resources Mentioned in this Episode:
Music: Say Amen by Ginny Owens (Hymns & Songs of Faith)
Subscription Links
Thanks For Listening!
If you enjoyed this episode, please share it using the social media buttons you see at the bottom of the post. So helpful!
If you have an idea for a podcast you would like to see, a special guest you'd like to hear from, or a question for an upcoming episode, please email me. If you enjoyed the show, I would be so appreciative if you would rate it on iTunes and write a brief review. That helps me so much! Thanks.
And thanks to Andrew & Ginny for sharing with us!
Question: What's your biggest takeaway from this interview with Andrew & Ginny? Always love to hear from you! You can leave a comment by clicking here.
Like what you read?

If so, please join over 5000 people who receive exclusive weekly online worship ministry tips, and get a FREE COPY of my eBook, Beyond Sunday! Just enter your name and email below: