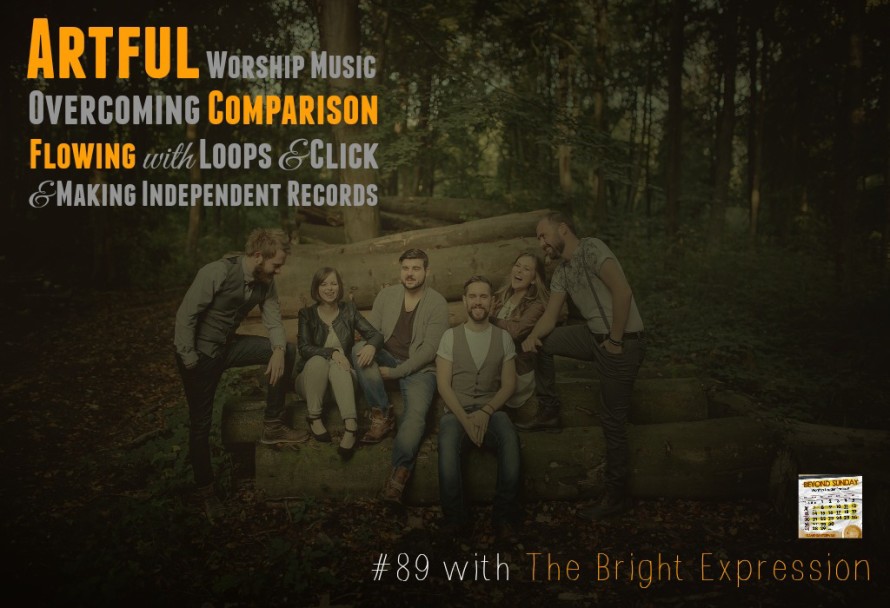 Podcast: Play in new window | Download
I am so excited to introduce you to some new friends of mine from the brand new band, The Bright Expression. I don't know about you, but I love finding new music. Especially new music that is awesome. You are going to love this.
Not only is the music great, but this conversation was rich and went in a lot of different directions (hence, the long title).
Leigh & Richard Patching and I discuss creating artful music that engages Christians and unbelievers, how to overcome comparing yourself to other musicians, flowing with loop & click, & practical tips for making an independent record.
Enjoy!
Click to Listen
Podcast: Play in new window | Download
Show Sponsor
Our sponsor for today's show is an eBook project, The Worship Songwriter. I wrote this book to help people finish songs. I found that I had journals full of ideas but not many songs to show for it. And it was all because of self sabotage: I would criticize my song before it had time to breathe.
So this book is a step by step process – to go from no idea to a finished worship song. Included in the book is also a journal as well as the audio book.
So please check out The Worship Songwriter and support the podcast. Thank you so much!
In this Episode You'll Hear More About:
How The Bright Expression was formed.
What it was like working with Gabriel Wilson as a producer.
Why you need to be believable in your writing, singing, performing.
The tension between creating worship music and great art.
The influence of John Mark McMillan on songwriters.
How to avoid cliche in your writing.
How to connect with believers and unbelievers in your music.
How to craft sound with a lot of people in a big band.
The value of collaboration.
Crafting huge strings with Jeremy Larson.
The importance of communicating as a drummer.
How to move forward musically when you know you're not the best.
How to use Ableton to run loops & clicks in a live setting.
Practical steps to promote yourself as a indie band.
Resources Mentioned in this Episode:
Subscription Links
Thanks For Listening!
If you enjoyed this episode, please share it using the social media buttons you see at the bottom of the post. So helpful!
If you have an idea for a podcast you would like to see, a special guest you'd like to hear from, or a question for an upcoming episode, please email me. If you enjoyed the show, I would be so appreciative if you would rate it on iTunes and write a brief review. That helps me so much! Thanks.
And thanks to The Bright Expression for sharing with us!
Question: What's your biggest takeaway from this interview with Leigh & Richard? Always love to hear from you! You can leave a comment by clicking here.
Like what you read?

If so, please join over 5000 people who receive exclusive weekly online worship ministry tips, and get a FREE COPY of my eBook, Beyond Sunday! Just enter your name and email below: