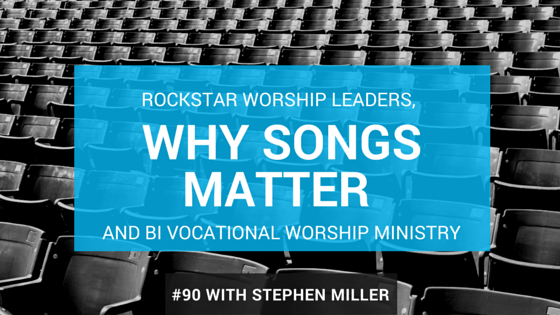 Podcast: Play in new window | Download
The tension of rockstar and pastor is real within the local church. That's why I love Stephen Miller. He always challenges me to get to the root of what I'm doing as an artist, songwriter, and local church pastor. He's the real deal.
In this chat we talk about his great new album Liberating King, his book Worship Leaders We Are Not Rockstars, the power of worship songs, rockstar worship leaders, and being a bi vocational worship leader.
Enjoy!
Click to Listen
Podcast: Play in new window | Download
In this Episode You'll Hear More About:
Stephen's book Worship Leaders We Are Not Rockstars.
A behind the scenes look at Stephen's New album Liberating King.
The tension between pastoral ministry and artistry.
Why worship songs are so important in the life of a church.
Why Stephen went for a darker, edgier sound on Liberating King.
Some thoughts revitalizing hymns.
How to find time to create.
Why worship leader should maybe consider part time bi-vocational ministry.
Resources Mentioned in this Episode
Show Sponsor
Our sponsor for today's show is an eBook project, The Worship Songwriter. I wrote this book to help people finish songs. I found that I had journals full of ideas but not many songs to show for it. And it was all because of self sabotage: I would criticize my song before it had time to breathe.
So this book is a step by step process – to go from no idea to a finished worship song. Included in the book is also a journal as well as the audio book.
So please check out The Worship Songwriter and support the podcast. Thank you so much!
Subscription Links
Thanks For Listening!
If you enjoyed this episode, please share it using the social media buttons you see at the bottom of the post. So helpful!
If you have an idea for a podcast you would like to see, a special guest you'd like to hear from, or a question for an upcoming episode, please email me. If you enjoyed the show, I would be so appreciative if you would rate it on iTunes and write a brief review. That helps me so much! Thanks.
And thanks to Stephen for sharing with us!
Question: What's your biggest takeaway from this interview with Stephen? Always love to hear from you! You can leave a comment by clicking here.
Like what you read?

If so, please join over 5000 people who receive exclusive weekly online worship ministry tips, and get a FREE COPY of my eBook, Beyond Sunday! Just enter your name and email below: