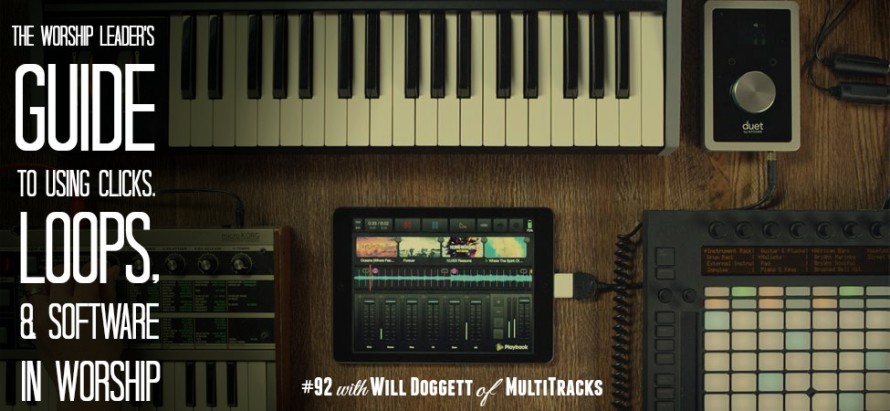 Podcast: Play in new window | Download
Whether you're an experienced loop user, a beginner, or you haven't given it any thought, we all have something to learn. That's why I wanted to talk with the master Will Doggett from MultiTracks about this world. Today's show is an overview of using loops, clicks, & software in your worship services.
We discuss software like Ableton Live, Omnisphere, Mainstage, ProTools, and more. We talk about setting up your loops, best practices, and even a host of recommended gear.
Pull out your moleskin's folks. It's about to get real.
Click to Listen
Podcast: Play in new window | Download
Show Sponsor
Today's podcast is sponsored by Omnisphere by Spectrasonics. Omnisphere is my latest piece of software for keys and probably the only one I'll ever need. Incredible pads and textures, innovative keyboard sounds, strings, lead synths, basses and arpeggios, it's got it all. Literally some of the best sounding patches for keys I've ever heard.
We're in the production stages of recording our next live album and Omnisphere is becoming a massive part of our sound for this project. Run it through MainStage, Logic, Pro Tools, or even Garage Band and you have keys rig for your worship sets that is better sounding and more customizable than anything you've ever experienced. Check it out!
In this Episode, You'll Hear More About:
Will's journey into electronic music.
The power of encouragement and speaking into others.
The shift of sound in worship music to becoming more software based.
The value of using clicks & loops in worship.
Why you need to train and invest in your volunteers.
Will's recommended setup for using loops.
Best practices for using Ableton Live in worship.
The pros & cons of Ableton versus ProTools.
Using Ableton as a VST host.
Best practices for keys players transitioning to software.
Resources Mentioned in this Episode:
Website: Reason by Propellerhead
Gear: DMC60 by Disaster Area Designs (controller for guitar)
Gear: Kontakt by Native Instruments
Subscription Links
Thanks For Listening!
If you enjoyed this episode, please share it using the social media buttons you see at the bottom of the post. So helpful!
If you have an idea for a podcast you would like to see, a special guest you'd like to hear from, or a question for an upcoming episode, please email me. If you enjoyed the show, I would be so appreciative if you would rate it on iTunes and write a brief review. That helps me so much! Thanks.
And thanks to Will for sharing with us!
Question: What's your biggest takeaway from this interview with Will? Always love to hear from you! You can leave a comment by clicking here.
Like what you read?

If so, please join over 5000 people who receive exclusive weekly online worship ministry tips, and get a FREE COPY of my eBook, Beyond Sunday! Just enter your name and email below: