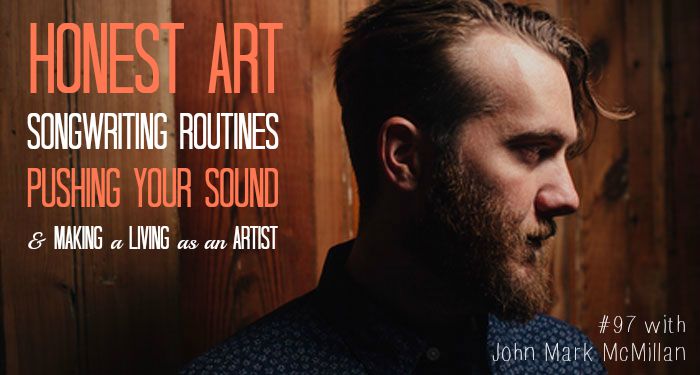 Podcast: Play in new window | Download
I love conversations with interesting people – people who have strong opinions, know who they are, believe in what they do, work hard, and live to help others. John Mark McMillan is one of those people. Maybe that's why this conversation went a little long.
John Mark McMillan is a fantastic singer/songwriter, most known for his song "How He Loves" which is sung in churches all over the world. There is so much depth to this guy. He is making the music he wants to make, not what others think he should do.
It was just super fascinating to get his perspective on art, songwriting, worship music, influences, production, and so much more. Feel free to listen in spurts but make sure you get all the way to the end. This is not a conversation to be missed!
Click to Listen
Podcast: Play in new window | Download
In this Episode You'll Hear More About:
How JMM defines his music.
Thoughts on the "genre" of worship music and categorizing music.
Tips for being honest with your art.
The tension between the song you want to sing and the song people want to hear.
The phenomenon of "How He Loves"
Specific tips JMM learned from his top 5 influences.
Worship leading lessons from Bruce Springsteen.
The problem with pop culture influence on worship music.
How JMM approaches songwriting – tips, tricks, routines.
How to deal with insecurities as an artist.
The sound of Borderland and why JMM likes it better than Economy.
Finding deeper creativity by limiting your options.
The benefits of music school and really developing your craft.
The story behind the new You Are the Avalanche EP.
Creating art with small children.
The story behind JMM's record label Lionhawk Records.
Some current music JMM has been listening to.
JMM's favorite live shows.
Resources Mentioned in this Episode:
Subscription Links
Thanks For Listening!
If you enjoyed this episode, please share it using the social media buttons you see at the bottom of the post. So helpful!
If you have an idea for a podcast you would like to see, a special guest you'd like to hear from, or a question for an upcoming episode, please email me. If you enjoyed the show, I would be so appreciative if you would rate it on iTunes and write a brief review. That helps me so much! Thanks.
And thanks to John Mark for sharing with us!
Question: What's your biggest takeaway from this interview with John Mark McMillan? Always love to hear from you! You can leave a comment by clicking here.
Like what you read?

If so, please join over 5000 people who receive exclusive weekly online worship ministry tips, and get a FREE COPY of my eBook, Beyond Sunday! Just enter your name and email below: