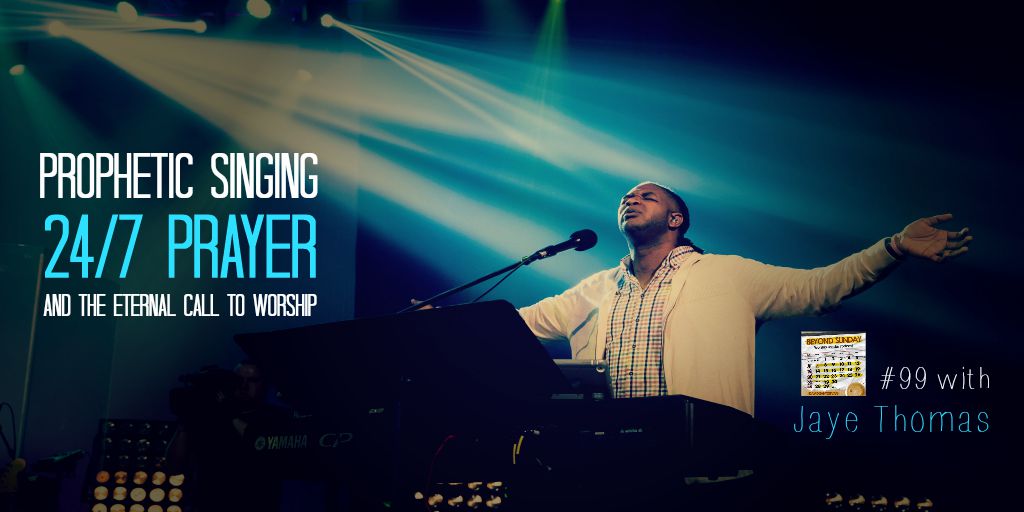 Podcast: Play in new window | Download
One of the ministries that had a profound impact on me as a worship leader was IHOP – the International House of Prayer. I remember visiting the 24/7 prayer room as a young kid and being so challenged to pursue Jesus with my whole heart.
That's why this interview was so fun. Jaye Thomas is a worship leader/teacher at IHOP and we dive deep into the culture of IHOP, prophetic singing, stepping out in faith, and so much more.
Jaye is the real deal!
Click to Listen
Podcast: Play in new window | Download
In this Episode You'll Hear More About:
The term "musicianary" and what it means to Jaye Thomas and his ministry.
Making terrifying transitions to follow the call of God.
What Jaye learned from his aunt – the late great, Nina Simone.
Why the acoustic guitar is such an emotional instrument.
The IHOP worship culture.
Why worship is the greatest calling for the believer and the greatest thing we can do for the kingdom.
Jaye's weekly schedule as an intercessory missionary at IHOP.
The importance of sitting still before the Lord.
What it means to be a prophetic singer.
The difference between spontaneous and prophetic.
Why it's important to sing songs about God to God.
Resources Mentioned in this Episode:
Subscription Links
Thanks For Listening!
If you enjoyed this episode, please share it using the social media buttons you see at the bottom of the post. So helpful!
If you have an idea for a podcast you would like to see, a special guest you'd like to hear from, or a question for an upcoming episode, please email me. If you enjoyed the show, I would be so appreciative if you would rate it on iTunes and write a brief review. That helps me so much! Thanks.
And thanks to Jaye for sharing with us!
Question: What's your biggest takeaway from this interview with Jaye Thomas? Always love to hear from you! You can leave a comment by clicking here.
Like what you read?

If so, please join over 5000 people who receive exclusive weekly online worship ministry tips, and get a FREE COPY of my eBook, Beyond Sunday! Just enter your name and email below: