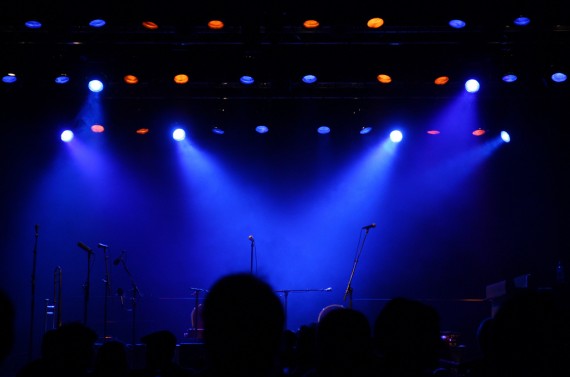 I'm a firm believe that worship leadership isn't a calling relegated to a stage, a service, or songs.
Worship leaders are called to lead worship by the leadership of their lives.
They create culture wherever they go.
They impress upon others the glory of God.
They inspire others to worship in the midst of their pain and confusion.
It's an atmosphere, not of emotional music, but of a life wholly surrendered. A life that is led by the Holy Spirit.
What Other Worship Leaders Have to Say
This past week, I polled my nearly 4,000 email subscribers and asked them what their take was on leading passionate worship "off the stage."
Because I believe that is the important question for a worship leader. Not how gifted they are on stage. Not even their own personal worship. But how they lead others in a lifestyle of seeking God.
By the way, if you didn't know I had an email newsletter, now would be a great time to subscribe. I correspond with my newsletter friends on a deeper level through email.
I create unique, challenging content there, different than the blog. Many have told me how they use the newsletters as devotionals for their worship teams each week. It's also a source of inspiration and encouragement for them as they go to lead worship on Sundays.
There you have it. Sunday morning. Encouragement for your role as a worship leader. Free. And if you sign up, I will give you a free copy of my short ebook, Beyond Sunday.
OK, that's enough. Let's get to the main course. Here are a few responses from my friends:
Worship Beyond the Stage
"Worship is a way of living…not a performance, an act, music or even sounds" – John Tiotti
"To lead in worship, you must worship, by yourself in your own home, in your car, with others in corporate prayer. Listening to music and worshiping along with others has been my start. You must learn how to be still with the Lord. It is the Spirit of the Lord who actually leads us into worship, so we simply must practice His Presence, read His Word and Pray" – Anne Davison
"God has entrusted us with so much, and how we take care of what He has entrusted us with, shows our appreciation of Him. How we love and treat our spouses…love and take care of our children…our faithfulness in paying our bills etc. We must do these things and lives our lives with a continuous heart of gratitude for who He is and what He's done" – Tiffany Burton
"It should be our every day conversation with the Father. A more intimate relationship with God enables a worshipper to understand His love and worship Him passionately even when we're off the stage coz we're so aware and conscious of who He is and His presence that we all carry" – Jacob Evelyn
"A way I practice worshiping off stage is through trust. To worship by trusting God, I think about Noah who said something like "Let's plant these trees because in 50 years they'll be big enough to use as sails." Imagine what kind of trust it takes to work on a project that took over 75 years to complete!" – Dave Helmuth
"As I reflected on what it meant to be a worship leader OFF the stage, I realized that being a worship leader means that in any circumstance I find myself in I need to ask the question, 'Am I pointing people to Jesus or something/someone else?' Live in such a way that others want to have Jesus more in their life because of the life that I live before them." – Phil Biega
"Nurture a sense of wonder and delight. Where you are, throughout the day, discover God's goodness, majesty, beauty and power. I love how Eugene Peterson captures Psalm 34:8: 'Open your mouth and taste, open your eyes and see—how good God is.'" – Terry Timm
"Leading worship off stage is all about your personal connection with God. If you are one who spends a lot of time with God each week and each day you are transformed and transformation affects people." – Greg Coe
"Passionate worship 'off the stage' is a 24 hour gig"- Andrew Rios
"Practically speaking, our younger worship team has built trust is by greeting people before/after services from the floor, having conversations with older people, and entering the stage from the floor (as opposed to coming from backstage). We realize that when the congregation know our faces, voices, and hearts on a personal level, they will follow us to the throne once we are on stage. Otherwise, (to them) we are just performers on a stage." – Sean Gasparetti
"For me, it's finding time to sing over my kids at bedtime. Always singing. I found this week when I asked them to help lead (I invited ALL the kids in our services up to sing…) they did it with exuberance! it was amazing." – Jason Gangwish
"Worship pastors have the same charge, if not greater, to be devoted in studying the Word and keeping their lives pure and holy" – Deborah Stephens
"Presenting unity as a church to our team members and congregants, and presenting unity as believers to those we come in contact with is key to creating an atmosphere of worship in our lives." – Mike Goodrick
"I believe the ultimate atmosphere comes about when the Holy Spirit plays through us." – Neil Anderson
I Need Your Help
Now, it's your turn. What does worship look like for you when you're not on stage? When you're not performing?
What is the atmosphere of your life?
Let's continue the conversation in the comments.
Like what you read?

If so, please join over 5000 people who receive exclusive weekly online worship ministry tips, and get a FREE COPY of my eBook, Beyond Sunday! Just enter your name and email below: