Before you read this post, I want you to say something out loud. Ready?
Say: "I am an artist."
If you don't believe yourself, say it until you do. Because it's true. And today, I want to invite you to join with other artists and make something.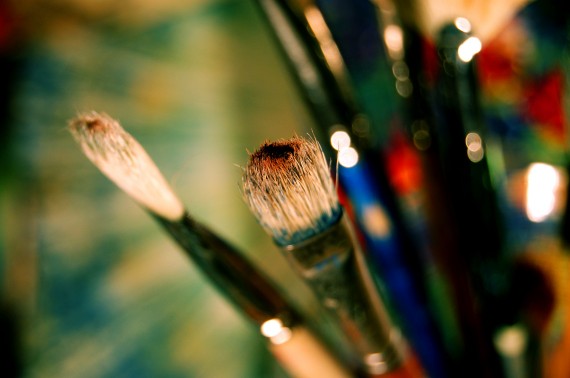 On the heels of my new Ebook, The Worship Songwriter, I thought it was fitting for us to do a blog series on creating.
The whole premise of the book is about overcoming your fear and writing your best songs – making something. But making something goes far beyond songwriting. You don't need to be a songwriter in order to create.
If you lead worship, you create worship experiences for people.
If you preach, you create sermons to reach people.
If you cook, you make experiences surrounding food.
If you are hospitable, you make others feel comfortable.
Making is all around us. Creating is part of who we are. We are made in the image of our creator – we are artists.
We create in order to reflect our Maker. We have been gifted, blessed, commissioned to go forth and create songs, sculptures, structures, canvases, and experiences for the glory of God.
But more often than not, we don't.
Why?
That's exactly what we're going to tackle in this 5-part series – overcoming your hindrances to creating.
5 Hindrances To Creating
Hindrance #1 – What if I don't know what to make? (ideas)
Hindrance #2 – What if no one knows I exist? (marketing)
Hindrance #3 – What if I fail? (failure)
Hindrance #4 – What if I don't have time? (excuses)
Hindrance #5 – What if I succeed? (success)
In the end, I would rather try and fail for the rest of my life than offer God my good intentions. It's time to zero in. It's time to decide. It's time to confront the monsters.
It's time to clarify what we're living for – what we're actually doing with our lives.
So through this 5 part series I want to challenge you – make something. Get started.
No idea is too small. No failure is final. No excuse too overwhelming. You can do this.
Yes, There's a Giveaway
Simply for participating in this challenge, you will be entered to win a couple sweet prizes (I'm giving away 5):
1. A FREE copy of my book, "The Worship Songwriter"
2. A FREE copy of my worship album, "Near."
More importantly, you'll receive some fresh accountability for your art.
How This Will Work
Are you in? All you have to do to qualify is:
1. Leave a comment below. Let us know what you're going to make (accountability is wonderful).
2. Follow along with the blog series for updates/challenges. You can subscribe to posts HERE (select the "daily" option).
3. Make something. Just get started.
I need your feedback. What are you going to start over the next couple weeks? I'm here to help you. Leave a comment!