Today I have the privilege of interviewing Brian Johnson, worship pastor and songwriter from Bethel Church in Redding, CA.
With every new album that Bethel puts out, I'm not only impressed by the songs, but by the passion for Jesus that marks it all. There's something contagious about their culture.
At the end of the interview, I'll let you know how you can win a free copy of their new album, "For the Sake of the World."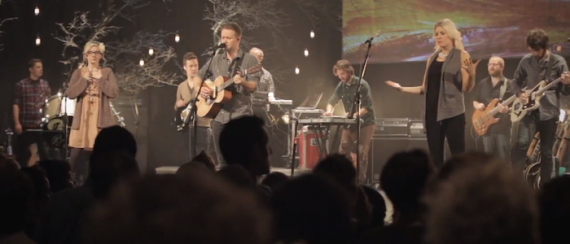 David: Absolutely love the new record, "For the Sake of the World". What are you most excited about when it comes to the new record?
Brian: We were excited with the finished product because the songs capture the heart and the "DNA" of where this church and this movement are at right now. We feel like the album conveys our heart and our spirit. We feel like people can get infused with the teaching and the culture of this place through the songs. They express what we feel like the Lord is saying at this time.
David: A lot of what I teach and write about on the blog is about worship team culture – developing a team and church that is desperate for God. Bethel seems to place a high value on that. What have you done to create your team's culture?
Brian: We are in the lives of our leaders. They are in our homes. We have monthly worship community meetings, and during this time we remind our community of what our vision & priorities are, and share where we feel like God is taking us. It's a time for our worship teams to stay connected, to remember what we are about, and to stay on target with where we are headed.
We also simply model what we value as we lead worship- for example, when Jenn sings a prophetic song and follows the Spirit spontaneously in worship- I don't think anyone learns more than actually seeing it happen. We value pruning- emotionally and spiritually, as we move forward and grow.
Pruning comes with any kind of growth. We want to make sure our team is like an arrow in this way. Our senior worship team meets once a week to discuss how to improve the lives of those we pastor and to improve our process of developing team.
David: Are you intentional about raising up new musicians, singers, tech people, & worship leaders? What does that process look like for you?
Brian: People are raised up primarily through relationship with their band members & through our feedback. We give honest feedback, and utilize our stronger, more seasoned musicians to frequently give input to our newer musicians. We have different services/settings where our upcoming leaders and musicians can grow, progress, and be mentored.
Many of our musicians come through our school of ministry, and this serves as preparation for them to be apart of teams for our worship services. We make our team members aware that they will be getting feedback no matter how long or short they have been apart of our teams.
David: How can you tell if a song is "good enough" and album-ready? How many songs were on the table for "For the Sake of the World"?
Brian: We look for songs that have a spark. We probably had 30 ideas on the table for "For the Sake of the World". A few of us spend time with the song ideas, usually one of us will be passionate about a certain song idea.
The real test is when we lead a song in a live setting because this reveals whether a song does what it is intended to do.
The song, "For the Sake of the World" may not be an every-Sunday-morning song, but in the right context, it does its job. Each song needs to do its job. We went through 10 revisions of "You Have Won Me" before we felt like it landed.
David: What's your best songwriting tip for worship leaders' who want to take their writing to the next level?
Brian: Write about what you want to see in 10 years. Write about what you want people to believe about God and believe about themselves. Write about truths that pull people into who they are and who they can be because of God's goodness.
Learn to see as as songwriter- know when a song needs more. If you don't have what it needs, bring someone else in to co-write with you and bring another ingredient. Don't stop short of what you originally envisioned a song to be. This is what we try to do.
Winners
1. Tim Hageland
2. Carlie Bruno
3. Marc Daniel Rivera
4. Marites
5. Marc Millan
Question: What stuck out to you about this interview? What's your takeaway? You can leave a comment by clicking here.