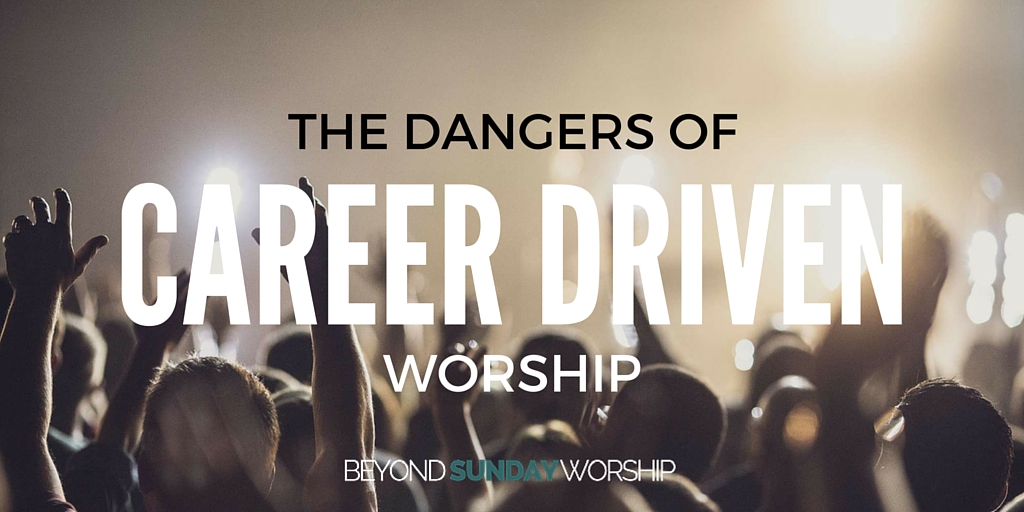 How you think about worship makes all the difference.
It's either a job title or it's who you are.
It's either a song you sing or a lifestyle you lead.
Sometimes I wonder if it's more of a career for me. Which is silly to think about. How can something so pure, so miraculous, become an activity I dial in?
Consider this:
And so the Lord says, 'These people say they are mine. They honor me with their lips, but their hearts are far from me. And their worship of me is nothing but man-made rules learned by rote' (Isaiah 29:13 NLT)."
Man-made rules learned by rote. Hearts that are far.
That is scary. The last thing I want in life is a heart far from God.
I remember seasons in my life when the tears would flow, my feet would dance, my heart would treasure the Presence of God above all else. I couldn't wait to read my Bible for hours. I just wanted to be with Jesus.
Is that still the case? Wow, Lord have mercy.
Career or Calling?
Worship Leaders…this isn't about a career. This is a calling. It's not enough to "land" at a church and collect a paycheck.
Because here's the bottom line: Worship Leaders are worship leaders based on how they lead with their lives. You can't keep them from worshiping. You can't stop them from pursuing the Presence of God. They can't be contained by a title.
The Worship Leaders of tomorrow are alive with passion for Jesus. It's an identity one can't escape. Worship is the breath they breathe. It's the agenda for the day.
If you're merely looking for a career…there's other things you should do.
Why?
Leading worship isn't glamorous – you're not entertaining fans like Coldplay is at the arena down the road. If you are, you're abusing your role as a pastor and servant of God's people. It's not about the glam of the spotlight.
The best worship leaders don't overthink worship. They think about Jesus. They're caught up in Jesus. Overwhelmed by Jesus.
It's not just about the latest and greatest songs, apps, and gear. It's a closeness with the Savior.
What's the problem with career-driven worship?
You seek advancement over abandon.
You want opportunities more than offering up your life.
You desire fans, not disciples.
You parade the spotlight over pushing others into it.
You collect a salary even if your heart is far from surrender.
But it doesn't have to be. Of course, these are sweeping generalizations.
It's possible to get it right.
It's possible to have a career in worship and set something in motion that influences generations. The job doesn't have to steal your joy.
I'd love to know, how do you balance this? How do you have a career and keep it real?
Like what you read?

If so, please join over 5000 people who receive exclusive weekly online worship ministry tips, and get a FREE COPY of my eBook, Beyond Sunday! Just enter your name and email below: