It's nearly impossible to talk about modern worship at length without the words "Chris Tomlin" entering into the conversation.
His catchy, universal songs have made their way in the worship team repertoire of nearly every evangelical church across the world.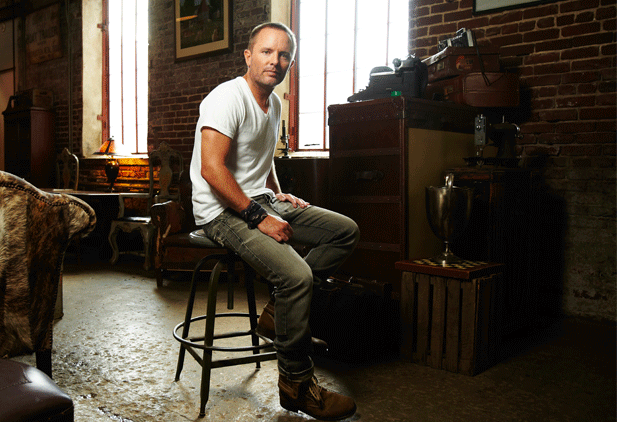 Chris Tomlin's music is accessible to every generation. It's not particularly groundbreaking musically, which isn't his goal anyway. He writes simple, catchy, Godward songs for the church. And He's succeeded at that with every album he's released. His new album, "Burning Lights" is no exception.
Rather than post a review, which you can find all across the internet, I've decided to distill song songwriting tips that I've gleaned from Chris's writing. At the end of this post, I'll show you how you can enter to win 1 of 5 copies.
Songwriting Lessons
1. A Solid, Central Idea – Chris's songs are definitive. You know exactly what they're about. He has a way of writing the definitive song for a particular theme. It's almost as if he catalogs his writing for worship leaders.
It goes to show you that clever is not always better. Sometimes the simple decisions can make songs more "sticky".
2. Catchy Chants – Most of Chris's songs are chant-like, which make them easy and fun to sing. He doesn't try to cram a ton of words into abstract phrasing. He serves the common person with a simple, yet insanely catchy melody. This is what cause his songs to be so popular.
3. All Around Simplicity – The first time you hear a Chris Tomlin song, it's stuck in your head. It's not just the melody that's simple. It's also the theme. Chris doesn't write about deep theology or abstract ideas.
For some, this is what they criticize about Chris's writing. It's very plain, easily digested. This is great for worship songwriters because we want our songs to serve the church in their worship of God.
4. Easily Adaptable Arrangements for Worship Teams – A couple years ago, I would be the guy criticizing Chris Tomlin for his lack of musical innovation. I mean, is "four on the floor" and "chimey eighth note delay" all there is? But I believe that has been a factor in Chris's success with worship teams.
His arrangements are easily broken down and duplicated in teams of all skill levels. Whereas some other artists, like Gungor and Israel Houghton, require a deeper level of proficiency to figure out. Again, the simplicity factor.
5. Co-Writing – most all of Chris Tomlin's songs are co-writes. Community is important for songwriting. This isn't just about isolated artists trying to hit the charts. Songwriting is about you and your community pursuing Jesus and living for His kingdom together. The best songs will always come out of a thriving community.
As you pursue your songwriting goals, apply these tips in your own writing. Might I also recommend you pick up my new book, "The Worship Songwriter: A Step by Step Guide to Crafting Your Best Songs." I cover many more additional tips for writing worship songs.
Winners!
1. Josh Wagner
2. Don Simpson
3. Andrew F
4. Bren McLean
5. David Lindner
Question: Why would you like a copy of Chris's new album? Let us know in the comments!