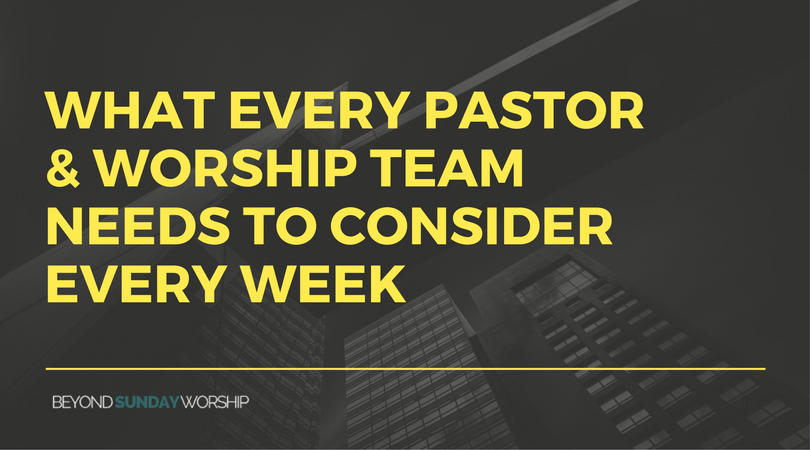 Sunday is more than songs – it's planning, administration, prayer, practice, and ministry.
There's so many details to consider every week.
But there's something else to consider. And it's more important than all the others. We'll get to that in just a bit.
I read an article this past week called, "Why the church doesn't need anymore coffee bars." It's a gut wrenching story. And much of it I agree with. We don't just need great music, broadway lighting, impressive talent, and fresh brewed coffee. Sure. We need Jesus more than anything. My heart goes out to the family who lost their precious father. I can't even imagine the pain.
So that's why I want to tread lightly on this topic. In no way do I want to disrespect this amazing family and the tragedy they are experiencing. I honestly have no idea. But I do know this – music, lights, coffee, and graphics aren't the problem. The reason we make these aesthetic choices is to serve people.
It's similar to saying at a restaurant that background music, tables, chairs, air conditioning, and decor doesn't matter. Only the food matters. Sure, we go to a restaurant to eat, but the vibe aids in our enjoyment of the prime rib. Without the careful, compassionate thought that is given to the aesthetics, we might not return. Sitting on a concrete slab in complete silence with the best fish & chips in the world is fine, but not necessary.
Keeping Jesus at the center doesn't need to be in opposition to programmed lighting. Pointing people to the Savior in the midst of their pain doesn't need to conflict with a specialty coffee bar. The answer isn't to strip our services of intentional programming, color, sound, songs, coffee, and the chocolate chip biscotti's at the cafe counter.
All can work together.
Have Mercy on Your Leaders
Isn't it easy to criticize those who make decisions in our churches? It's far too easy and I do it far too often. Let's remember that it's not easy work. Let's have compassion on those who are laboring to serve the church. Let's be their biggest fans, have face to face conversations when we disagree, and realize that no place is the perfect place. No one is intentionally trying to mar the cross and distract people from Jesus with coffee.
And you just never know if a cup of coffee in the foyer will lead to a conversation about Jesus. And 3 weeks down the road, Jeff the construction worker comes to faith in Christ because of a cup of coffee with a kind soul weeks earlier.
You. Just. Never. Know.
What Every Pastor & Worship Team Needs to Consider
However, here's where I'm challenged by this incredibly strong woman and her story. If we as leaders never consider the orphan, the widow, the terminally ill, the divorced, the homosexual, the broken, the suicidal, we are missing the point of everything.
Literally everything.
If we're merely entertaining people so they have a good time, we're not having church.
What makes the church distinctive to a social club or a concert at your local arena? Jesus.
It's the presence of the Spirit. It's the revelation of Christ and him crucified for the sins of the world. If we're not highlighting this, let's call it something else, right?
If people aren't encountering the word of God through Christ centered preaching, something is amiss. If we're not worshiping the Name above every name, we're missing the point.
Consider the suffering. Give them Jesus.
If you want insane lighting, please do. But consider the suffering. Give them Jesus.
If you want to tear down your cafe and stop serving coffee, please do. Consider the suffering. Give them Jesus.
If you want your environment to look like a nightclub, please do. Consider the suffering. Give them Jesus.
Write the songs that carry more than ear tickling melodies. Give them a word to carry through chemo. Give them a love that won't let go. Give them a hope beyond the grave.
Give them Jesus.
I would honestly love to hear from you on this topic. How do you balance these decision in your church? Do you intentionally avoid cool aesthetics, cutting edge media, and comfortable environments like cafes?
If you use those things, how do you use it in a way that draws attention to the cross?
Let's be kind to one another and dialogue in the comments. Love you guys! You can leave a comment by clicking here.
Like what you read?

If so, please join over 5000 people who receive exclusive weekly online worship ministry tips, and get a FREE COPY of my eBook, Beyond Sunday! Just enter your name and email below: