[This post is part of a new series on "The Christian Musician". Check out the rest of the posts here.]
I love creativity.
There's something special about encountering someone's raw, passionate art. It can change your life. It has the potential to influence the way you see your day, the world, and eternity.
At least that was the case for me.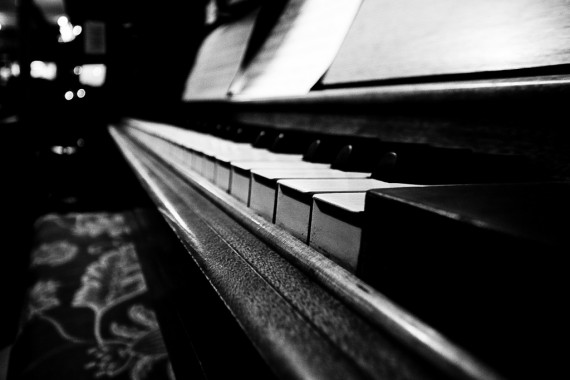 No young boy likes to play the piano when they are 8 years old. No, not one.
In the simple world of baseball games, school, dating girls for a day, and choco tacos at lunch time, there's really no room for the "Sorry, I have piano lessons" excuse. You just don't go there.
That was me. And other than my family, no one knew about my relationship to the piano.
That was, until I started to love it.
It wasn't a healthy dose of grade school willpower or Bastien piano books that lit my fire. It was when I encountered another's creativity.
I attended a concert and saw a jazz pianist light up the ivories like fireworks on the fourth of July. It was breathtaking. I was mesmerized.
From that moment, I worked, and worked, and even worked a little more – practicing up to three hours a day and eventually majoring in music in college. To this day, piano is a big part of what I do.
All because of one person's pure, passionate creativity.
Why Should You Be Creative?
As a Christian musician, or one who does Christian art, creativity is essential. But it's not an end in itself. We want our creativity to reflect the Gospel. We want to draw attention to the glories of God through our art.
Some may disagree with this, saying art should just be art for art's sake. But as a Christian musician, your art should seek to serve the grace of God to others. Even if you're music doesn't explicitly shout, "THIS IS ALL ABOUT JESUS!", it should be the goal of your art.
So what are some tips for expanding creativity as a Christian musician?
1. Don't outshine the Gospel
It's possible for creativity to hinder and distract from the Gospel. As a Christian musician, find a way to draw attention to it. I'll be the first to admit, I don't always know what this looks like.
Maybe it's explicit lyrics about God. Maybe it's giving an altar call or sharing a testimony. Maybe it's your lifestyle. Brainstorm how this works for your unique context. How can you draw attention to the Good News of Jesus Christ?
2. Schedule It
The stereotype of creatives is that we waste time until we feel inspiration. In reality, the most creative people are ultra disciplined with their creativity. They write every day. They wake up early. They prioritize their craft and work it into their schedule.
If you wait for feelings, your work will be extremely sporadic and frustrating.
3. Seek unique influences
If you're a worship leader and all you listen to is worship music, you'll never expand in your creativity. I recommend you explore different genres of music, books, and art. Don't just pick up what you agree with or what is comfortable. Expand. Eat the meat and spit out the bones.
Read a dense book on theology. Listen to some weird music. Adapt other ideas to what you do without losing your uniqueness. It's quite often that I need to escape my world of worship, church, and leadership in order to be inspired.
4. Try something new
I don't know about you, but I tend to lose my creative edge when I do the same thing, in the same way, all the time. While routines can be helpful for creativity, they can also kill it. The key is knowing when to break the routine and try something new.
Pick up a new instrument. Find a new place. If you create in the mornings, try the evenings. Try a new genre. Get comfortable with risk and hang out with her often.
5. Guard your passion
The minute you lose passion for your art is the minute you stop being effective. Art and boredom just don't mix together. Guard that raging fire in your heart for what you do. Every day.
6. Give yourself margin
Constant creativity without space to breathe is deadening. The best art is art that is lived, not forced. Reflect on your story.
Are you seeking to live a meaningful life for God's glory or seeking to force great art? Great art will come out of your life as you take risks for the glory of God and seek to make your life count.
7. Keep worshiping
I've noticed in my creative endeavors that I can lose sight of Christ – where spiritual disciplines take a backseat to creating. Many blogs are telling you to create…create…create! Yea, me too.
But let me balance it out. Make sure you worship. What sets you apart as a Christian musician is your relationship with the Author of all creativity. Matter of fact, stop creating at times and just look at Him. Just stare at His wonders. Your most productive work may just arise from that experience.
Go…And Influence A Life
In all honesty, changing the world with your creativity starts with changing one life. Just like my life was influenced by a jazz pianist putting on a show. Don't shrink back. Keep creating. When you feel like calling it quits, press in all the more.
The world is waiting.
Question: What are some other ways we can expand our creativity as Christian musicians? What makes creativity for a Christian unique? You can leave a comment by clicking here.