Excellence.
It's a word we use a lot when it comes to our worship teams. Tight music. Slick arrangements. Synchronized lights. A thin layer of haze. Air tight programming of every service element.
But is there a limit to this creativity? Does there come a moment when it's too much? When it becomes a distraction?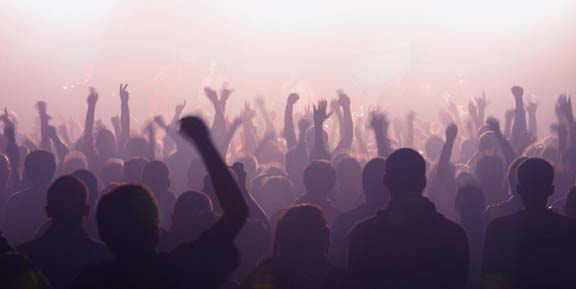 Average Worship Leaders
And what about we worship leaders who are average?
We'll never have the voice of Israel Houghton. We'll never develop the songwriting prowess of Matt Redman. We may never even be asked to lead worship for an event. We won't record an album or tour or be recognized by anyone for our skills.
Our modern worship culture has taught us that a great voice, a great band, and air-tight excellence produces the best worship. But what about the average worship leaders – is there a place in the kingdom for them?
Bob Kauflin wrote about this recently, and I think it stirs up some good questions.
Corporate Worship Essentials
Simply put, when does our excellence become a distraction – a distraction to the congregation who simply watches the great band. And, a distraction to the team who is relentlessly obsessed with deeper perfection and performance detail.
Where is Jesus? Is His glory being overlooked? Are we missing the point?
I think what will frame this conversation better is to determine what are the essentials – what must our gatherings include?
1. The Word – We are to worship God in truth – to exalt Him for who He is. The Word of God can never be divorced from pure worship. It's a response to His revelation. It's a delighting in His goodness. The more we see of God in His Word the more reason we have to worship.
2. The Spirit – We need to worship God "in Spirit", according to John 4. In every gathering, the Holy Spirit is the true worship leader. He reveals the character of God. He guides and directs us to know Jesus. Apart from the Spirit, we're merely hosting a sing-a-long.
3. Affection – Affection is a by-product of Spirit and Truth worship. As we encounter Him, our hearts become alive. He awakens us to His matchless beauty, wonder, and power. Worship becomes not just a mental assent to truth, but the full engagement of all our emotions. Love, passion, and fire grows within our hearts. We develop a flame for Jesus that is nothing short of a miracle.
I'd love to hear: what are your thoughts?
Have you idolized excellence over heart?
Are you emphasizing the essentials of worship?
Are you giving space for the average worship leaders to rise up?
Let's start some discussion in the comments. See you there.
Like what you read?

If so, please join over 5000 people who receive exclusive weekly online worship ministry tips, and get a FREE COPY of my eBook, Beyond Sunday! Just enter your name and email below: