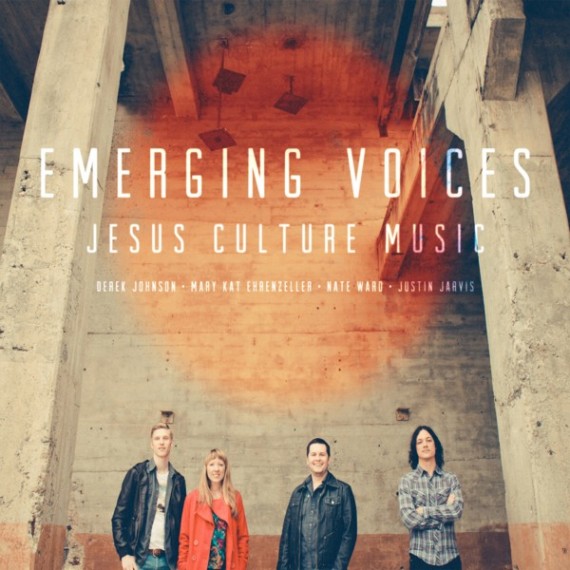 Sometimes an album comes along that carries a special anointing – a sound, a voice, a message that awakens your heart to see more of God.
For me, one of those albums has been the new Jesus Culture Emerging Voices album. What a fantastic collection of songs. And it's more than just great songs.
It is a worship experience.
I had the privilege of being introduced to Justin Jarvis and Mary Kat Ehrenzeller with the release of their stellar album, Harbour Live, a couple years ago. To see them on this new Jesus Culture record makes my heart proud. Derek Johnson and Nate Ward are also artists you don't want to miss.
I had the privilege of asking them a very important question. At the end of this post, you'll find out how you can win one of 5 free copies of this album.
What Does it Mean to Be an Emerging Voice?
Here's the question I asked them:
"I know it's a little daunting to be called an "Emerging Voice." But in its purest sense, what does it mean to be an emerging voice in our generation? How can followers of Jesus become an emerging voice?"
Derek: I think the Lord has been raising up songwriters in this generation who He's given a "voice" to, that will help reveal who God is in a way that draws people to Him.
I do think every believer carries a voice as well and you have to find the avenue through which God wants to release it. I think to develop a voice it's done through personal history with Jesus. It's you discovering who He is and burning to share it with someone else.
Justin: An amazing opportunity lies before our generation. We've been created for greatness, and I think deep down we all feel that inside. I feel like it's God's mark on us, and we are carrying around the potential of what He's made available to us in Jesus.
I find that the more confidence I have in what Christ has done for me, the more clarity I have on who I'm created to be and what I'm carrying in Him. When you're rooted in that, you can't help but impact the world around you.
The world is desperate to see more than a glimpse of God in every one of us that testifies of Jesus. They are looking for a life that says, "God is alive. He is awesome. And He loves us." That's the voice, and it's inside all of us. We have to find it, and let it out!
[tentblogger-youtube daG31EqVaBM]
Mary Kat: I would say that an "emerging voice" is a son and daughter of God being revealed. It says in the Word that "creation waits and groans for the sons of God to be revealed."
One of the songs even describes this verse, Justin Jarvis's "Here We Are." It's a voice in our generation revealing who God is to the world. We are bringing glory to Him as we let His Light shine through us.
Nate: I feel you kind of answered your own question.To be a true follower of Jesus IS being an emerging voice. In a world full of people looking to music, movies, self-help books, relationships, and (heaven help us) politicians to give them a sense of purpose and fulfillment in their lives, one who follows Jesus with complete abandon cannot help but stand out among them.
A follower of Jesus is the voice of reason and peace to all the madness that surrounds us. When we choose to identify ourselves with Christ people with no hope watch our lives and through that we can show the world that there is true hope and joy to be had through the Holy Spirit.
To be an "emerging voice" has nothing to do with the how many albums you sell, how many sermons you preach, or how many people know your name. That stuff is all temporary, at best. This album, my worship style, and even the media format that we use right now will all eventually fade away in one way or another, but the lives we live before God and the testimony of the Holy Spirit in us will last forever.
Winners
1. Rob Still
2. Ryan Vinson
3. Chelsea
4. Justice Devon
5. Jeff Pope
Question: What are some ways we can be an emerging voice in our generation? You can leave a comment by clicking here.
Are you a worship leader?

You may be interested in my FREE 20 part email course, "Next Level Worship Leading" - designed for local church worship leaders
| | |
| --- | --- |
| | We hate spam just as much as you |