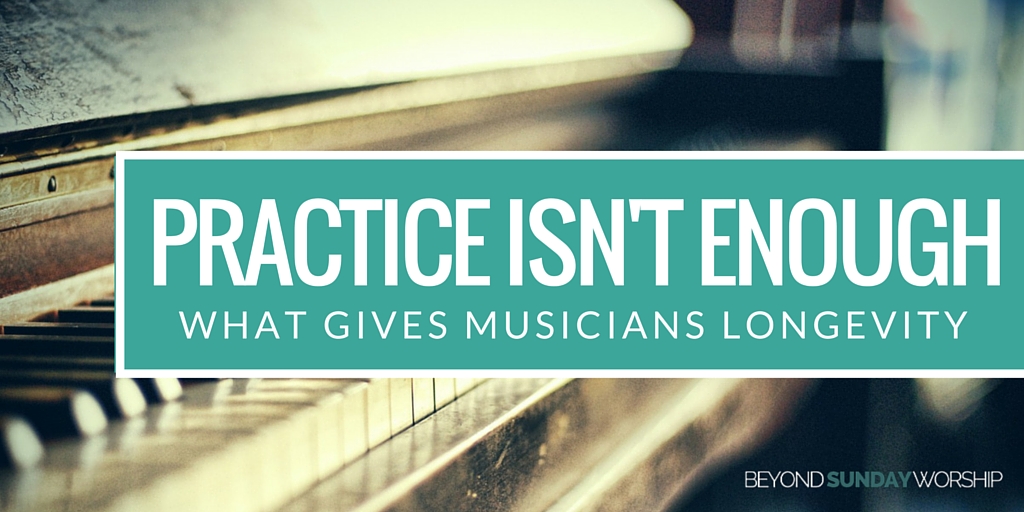 A question I receive quite often is, "How do I get better?"
As a musician, that's the million dollar question, isn't it? How do we improve? How do we grow in mastery – building an intuitive relationship with our instruments?
Because many musicians start. They sign up for lessons. They go to music school. They buy an instrument. But far too many quit or never get started in the first place.
What's the secret?
It's all about practice, right? Well, sort of. Studies have shown that it needs to be the right kind of practice. As we all know (maybe from experience), it's possible to take piano lessons for 15 years and not really know how to play the piano.
Surprisingly, a college degree isn't enough, either. If that was the case, every student graduating from music school with a Bachelor's degree in music performance would be able to "make it" in the music business. Or automatically be a great musician.
That's because simply showing up and putting in the time won't make you great. There's an often neglected aspect to music development that we don't talk about much. What is it?
It's love. In particular, it's learning to love the grind. Appreciating the boredom. If you find no joy in the process, you won't have the patience it takes to become great.
Let me speak to music educators for a moment: Are we spending too much time teaching technique and not enough time inspiring students to love? To love their instrument, to love music, to love the painful journey of learning?
[bctt tweet="Are we spending too much time teaching technique but not inspiring students to love learning?" username="@dsantistevan"]
Loving the Pain
Let's face it: Music isn't always a glorious experience. It takes years and years of methodical, disciplined, boring practice to get really good. And by "really good" I mean a place where your music is moving – where it makes others feel something.
If you're not willing to enjoy the mundane, boring routine of learning an instrument, it's not likely you'll succeed.
But here's the catch: It doesn't have to take years and years. I've seen musicians who've been playing for 2 years who are way better than those who have been playing for 10. What's the difference? And how do you put yourself on the trajectory of the 2 year player over the 10 year player?
3 Tips for Building Longevity as a Musician
Here's my advice:
1.Play Somewhere – Lessons aren't enough. Practice isn't enough. You need the pressure and responsibility of playing somewhere live in order to grow. That's what I love about leading a worship team. I have the responsibility and privilege of seeing young people grow into great musicians because of the experience and feedback they're receiving. Playing somewhere (especially a local church) is an opportunity to rub shoulders with musicians who are better than you. It forces you to practice and gives you a deadline – a high stakes outlet beyond the confines of a practice room and a dream.
2. Take Ownership – This may sound silly, but a lot of musicians don't take ownership of their craft. You simply can't rely on teachers and private lessons. Teachers fulfill an important role when you have a personal goal – a vision that you're striving for. Own your own development. Become a raging nerd on your instrument. Study YouTube videos, dissect what your favorite musicians are doing, experiment, invest in new gear, and take responsibility for your own growth.
[bctt tweet="If you find no joy in the process, you won't have the patience it takes to become great." username="@dsantistevan"]
3. Focus on Feel – Don't just learn songs, parts, or even just scales. It's one thing to know your major scales on piano or guitar. It's another to make them feel good. It's one thing to have perfect pitch and know all the lyrics. It's another to have a vocal tone that is honest and a passion that moves listeners to tears. Great musicians use the language of music and theory to produce emotion. The musical know-how is only half the battle. So spend time on how you press, pluck, or interpret notes.
I'd love to hear from you.
What are the necessities of growing as a musician? What would you add (or subtract) from the list? You can leave a comment by clicking here.
FYI, for those of you who want to grow in the skill of playing keys for worship, check out our online course Learn Worship Keys – over 30 training videos and interviews in an online accelerated learning format. Sign up below for a few free videos:
[ois skin="Learn Worship Keys"]