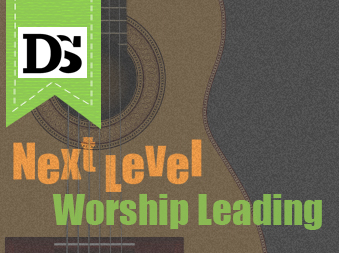 Today is a good day. An exciting day.
After loads of work, I am excited to announce the launch of my FREE email course, Next Level Worship Leading.
Hooray!
Cheers!
Hallelujah!
Something tells me you're ready to take your leadership to the next level – to rise up, reach your potential, and become all that God has called you to be.
But becoming successful isn't just about improving yourself, your methods, or shining a greater spotlight on your talent.
It's about loving Jesus first, serving your church with excellence, and making disciples wherever you're sent.
Are you ready?
Here's what this is all about:
A systematic, simple process for you to improve your worship leading.
A weekly tutorial that equips you to be an effective leader and equipper at your local church.
An organized reference guide to the best content that has appeared at davidsantistevan.com.
Being even more awesome. I know, is this even possible?
Next Level Worship Leading is a FREE 20-part email course and ongoing email newsletter. I think you should join the tribe.
Enter Your Name and Email Below and Click

Be sure to check your spam folder for the "welcome" email. It tends to get caught in there!
What You'll Get With Next Level Worship Leading
Here are some of the topics we will cover:
Vision: What It Means For Your Team
The Worshiping Worship Leader
Improving Your Rhythm Section
Developing a Culture of Desperation for God
How to Recruit New Musicians and Attract Skill
The Best Resources On Using Loops & Click Tracks in Worship
Creative Musical Ideas To Inspire Freshness
3 Values You Need To Embrace For Your Worship Team to Grow
How to Pursue Excellence and Authenticity in Worship
Become An Expert Scheduler and Planner
Making Disciples vs. Abusing Volunteers
Improving Your Leadership Skills
Crafting an Effective, Powerful Setlist
Connecting the Generations in Worship
So much more!
In addition to these weekly lessons, I'll also send updates regarding upcoming ebooks and courses. Some exciting announcements will be released soon! You can opt out any time you like.
Enter Your Name and Email Below and Click

Again, make sure to check your spam folder for the "welcome" email!
P.S.
If you're excited about this, I would so appreciate a simple Tweet or a Facebook share, helping to spread the word. Also, if you'd like a special promo button for your blog or website, shoot me an email. You're awesome!
P.P.S
Also, I would love your feedback in the comments. Let me know what you're excited to learn or anything you think I should include. This is all for you, because you're awesome.
Question: How are you hoping to grow in your leadership through "Next Level Worship Leading"? You can leave a comment by clicking here.