You know a professional musician when you see one.
Typically, they are booked solid. They can turn down the bad gigs because they have landed the best. But how can you get there? Well, it's less about natural talent and more about how you think.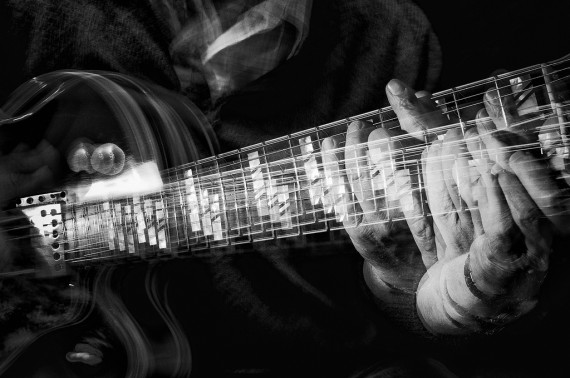 The best musicians – the pros – know something that the rest of us don't. They're not caught up in trying to succeed quickly. They don't stop improving after college. They don't look for an easy way out.
Their music is an extension of who they are – a form of self expression. And they're committed to it.
You Must Move Beyond Passion
Recently I read a post that annoyed me. It was titled: "Don't follow your passion. Follow your effort." At first, I was apalled. "Is this guy just trying to get cheap click throughs with a bold headline? Don't follow your passion? Really?"
But the more I read the more I was convinced that Mark Cuban is right.
If you want to become the best musician you can be, you can't just have a passion for the piano or guitar or drums or bass. Passion is fickle. It's unfocused. I develop new passions every day. But that's not what's going to cause me to succeed.
What you need is effort – long, committed, focused effort on your instrument. You need to make a decision and stick with it.
Practice for the professional musician never ends. And they're OK with that. Matter of fact, they love it. It's part of who they are. It has become a habit.
While so many amateurs are talking about their next drum kit, pedal board, or midi setup, the professional gets to work on what really matters – their craft.
How Do You Start?
Start with this week. Seven days. Pick an instrument.
Commit to improving yourself every day.
Don't just play your favorite songs. Stop reading the guitar forums. Quit looking at gear you can't afford. You're stalling from the real work.
Practice what is hard. Over and over.
Practice your timing, your technique, your scales, your control.
At the end of the week, review. I guarantee you'll see a difference. Because it's not just about time invested; it's about quality time invested.
Think different. Do the real work.
Question: What is holding you back from becoming the musician you could be? What would committed, focused effort make possible for you? You can leave a comment by clicking here.
Are you a worship leader?

You may be interested in my FREE 20 part email course, "Next Level Worship Leading" - designed for local church worship leaders
| | |
| --- | --- |
| | We hate spam just as much as you |
Photo Credit: ammgramm (Flickr)