[This post is part of a brand new blog series, "Your Guide to Practicing the Essential Skills of a Worship Leader". Check out the other posts here.]
If you want to influence, you need to speak.
There's no question about it. The currency of effective leadership is communication. This is especially true as a worship leader.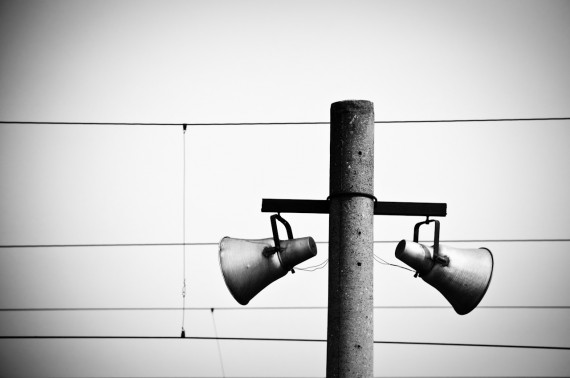 There's just one problem. I'm scared to death of it.
I have anxiety attacks as I prepare. I envision everyone hating me. I'll even have nightmares where I'm leading worship in my underwear. Ok, TMI. Suffice it to say, public speaking isn't cakewalk.
But through my years of leading worship, I've seen its importance firsthand. It's not enough to simply sing songs – you must engage your audience on a personal level. Leading worship is more about building trust with your audience than it is performing flawless songs.
Since we're in a series on practice, you owe it to yourself to practice your speaking. I've created a simple acrostic (S P E A K) to guide us.
5 Practice Tips To Improve How You S P E A K
Let's take a look:
1. Speak to One Person
I didn't make this up. I actually stole it from a recent newsletter by Chris Brogan. Often in our public speaking we address everyone as a whole. Instead, speak as if you're talking to one person. Here's what I mean:
"How are you doing?" rather than "How is everybody doing?"
"You know what I mean? rather than "You all know what I mean?
Audiences care about themselves. Address them as individuals. Visualizing one person will also help alleviate some stress.
2. Plan
I can't tell you how many gifted worship leaders I've seen who could sing a phone book but made zero sense when they spoke. They spend plenty of time planning their songs and their band but when it comes to their transitions, they fall flat.
Plan what you are going to say. Carve an hour out of your week to plan that "public speaking" moment. Write it out. Type it on your iPad. Craft it like you would craft a worship song.
3. Engage Feelings
When you speak to a congregation, you want to engage their feelings. With every word, you are building trust. Oftentimes new guests, new Christians, and even unbelievers are in the room and they have no idea who you are or what you're about. They'll follow you if they trust you. Speak to their feelings. For example:
"I know you may be new here…"
"You may not be used to this sort of worship…"
"Isn't it wonderful to gather for the glory of God?"
If you can engage their feelings, they'll follow you even if they dislike your music.
4. Audition Yourself
Beyond planning what you're going to say, you need to actually say what you're going to say. Stand in front of a mirror and watch yourself speak.
Oftentimes I'll think I have the greatest speech in world…until I deliver it. I find I don't really know what I'm talking about. The outline is disorganized. There's not enough humor, depth, or Scripture.
You must audition yourself.
5. Know Your Audience
Before you open your mouth to speak, it's important to know your audience. If you're a local church worship leader, that's relatively easy. You minister to the same people week in and week out. If you travel, it's a little more complicated. But knowing your audience goes a long way in knowing what to prepare.
So there you have it: S P E A K. Speak with boldness. Speak with compassion. Speak the words that God gives you.
God wants to use your words. And we need to hear them.
Question: Do you think public speaking is important to worship leading? How else can we improve? You can leave a comment by clicking here.