I'll be honest.
I'm not that old, but I've lead a lot of worship services. I've attended conferences, listened to too much music, read all the books, bought the "worship is a lifestyle" t-shirt, and drank the Kool-aid.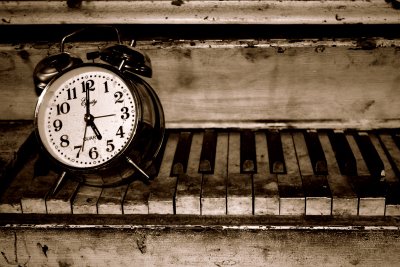 I'd be lying if I said I knew it all, but it's easy to get stuck in a rut. The more you do something, the easier it is to just coast and ride your talent from weekend to weekend, service to service, song to song.
But you know that. You know your tendency to become a worship songaholic.
What about today?
Today…I'm trying to approach every service with a fresh perspective.
I'm striving to lay bare my soul before God every time.
Why? Not because I should. But because I want to. My heart is hungry for God. But it's easy to lose that perspective.
Maybe you're burnt out.
Maybe you're tired.
Maybe you're just going through the motions.
This post is written for those worship leaders who've been doing this for a while. If I could sit you down in a room and challenge you, this is what I would say. This is how I challenge myself.
Worship Leading Advice for the Seasoned Worship Leader
To the worship leader who teaches others, who knows all the songs, who has developed the necessary skills, and has been doing this for years…here you go:
1. Get Honest About Your Legacy – Think about the people you've invested in over the years. If that number is large, great. If it's not, don't beat yourself up. But get honest with how you're reproducing yourself in others.
In 2013 I'm becoming more intentional than ever about raising up worship leaders. At the end of the day, make sure you pass on what you know. Don't keep it to yourself.
2. Schedule Unprofessional Worship – It's true. You are a professional worship leader. You probably do this for a living. But you know what's ironic? The best worship leaders don't do what they do in order to make money.
They lead worship because they're compelled to. The glory of God has so awakened their hearts that they can't help but lead. They love to get lost in God's presence. When was the last time you worshiped unprofessionally? Just you…crying out to God?
3. Practice Again – When was the last time you practiced your instrument? Your vocals? Your worship leading? I've noticed a lot of worship leaders (including myself) reach a certain level of musical proficiency and then they stop. They are good enough to get the job done. They may even be extremely gifted and a step above the rest.
But what if you decided to rise above your current level? How would your worship leading improve if you sang better? If you knew more chords? If you mastered your instrument?
4. Seek Out the Best Mentors – You never become too professional to need a mentor. You may be pouring yourself out, but are you getting filled? Find someone who's gone before you that can invest in you. They may not even be a worship leader, but they may carry a spiritual DNA that you desire. Seek out those people and learn from them.
5. Rekindle the Love – If you don't love what you do, why do it? I'm convinced that life is too short to just plow through. Revisit the days when you loved to lead worship – when you saw it as a privilege. Listen to worship music because you enjoy it. Try a new instrument. Remember why you started leading in the first place.
I know there are worship leaders reading this blog who've been doing this a lot longer than I have.
What keeps you going? What keeps you focused?
What advice would you give? Share your thoughts in the comments.