To have stage presence or not to have stage presence?
That is the question of the day. I want to introduce a tension…and then discuss. So please, get your comments ready.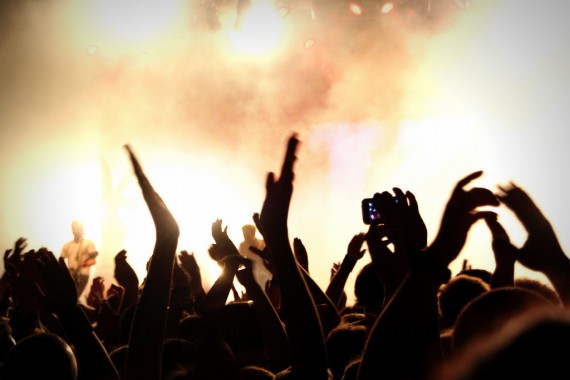 What I notice about larger worship teams and artists is that they have great stage presence. Musicians interact. Singers dance across the stage. Guitarists swing their guitars and drummers raise their arms to pound their percussion.
But for the most part, worship teams across the world have zero stage presence. They are silos – lost in their own instruments. They look bored, lost, and quite frankly…dead.
They have this glazed look in their eye, like they're saying, "You know how many times I've done this?"
Don't Be Afraid of the "P" Word
I think there's a healthy balance we can strike when it comes to stage presence. Because no matter how you spiritualize it, leading worship will always have aspects of performance.
Yep, I just said the "P" word.
Anytime anyone is on stage, they are performing. Your pastor performs when he preaches. Your associate pastor performs when he does the announcements.
Performance isn't wrong. Matter of fact, well-informed, Gospel inspired, Glory-of-God conscious stage presence is what your worship team needs.
And I'm hear to help you get there.
Why This Matters
You may be asking, "David, worship isn't about performance. It's not about stage presence and putting on a show." To that I would disagree.
Yes, worship isn't about the band and it isn't about their performance; however, worship is a celebration. It's an invitation. And something happens in the room when your worship team isn't just excited about stage presence, but about the glory of God – connecting and leading people to celebrate His wonders.
If they're bored, something is wrong.
The glory of God demands our best stage presence.
Excellence in worship isn't just a musical excellence – it's attitude, preparation, and stage presence. Perform your best. Lead your best. Engage with all you are.
5 Tips For Improving Your Stage Presence
I won't disagree – some people just "have it". They possess natural charisma and energy. But I refuse blame poor stage presence on personality. Everyone can learn how to improve their stage presence on a worship team.
Here's how:
1. Pursue God – The best stage presence you can model is a heart that truly pursues God. What does that look like for you? Loving Jesus in private will prepare you to love him from the platform. It needs to flow from who you are.
2. Dramatize the Simple – As a musician, there are probably techniques and riffs you can play without thinking. But having great stage presence makes you think otherwise. There's a little drama involved, a little flair. Take that simple riff and pour your passion into it – use your entire body to play your instrument. Don't allow yourself to "check out".
3. Listen To & Appreciate Your Bandmates – Great stage presence isn't just about you. It's about how you relate to the rest of the band. You all are one unit, serving together. Make eye contact. Smile. Listen to what each other is playing. Appreciate it. Connect and have a good time.
4. Practice It – When was the last time you practiced stage presence at your rehearsal? Yea, I can't remember either. It's time to start. In addition to practicing the song, practice performing the song with energy. Practice worshiping your guts out. Challenge everyone to take their worship to another level.
5. Pray for your congregation – I can sense a difference in my stage presence when I pray for the congregation and when I don't. When I show up having served them in prayer and intercession, I'm more engaged, expectant, and ready to lead. Try it. Rather than just showing up for a gig to play music, show up like a pastor ready to serve. Pray for God to move. Pray for the broken to be made whole. Believe.
OK, now it's your turn.
What are your thoughts on stage presence?
This post is incomplete without your comments.
How is the stage presence of your worship team? What are you going to do about it?
Like what you read?

If so, please join over 5000 people who receive exclusive weekly online worship ministry tips, and get a FREE COPY of my eBook, Beyond Sunday! Just enter your name and email below:
Photo Credit: Martin Fisch (Flickr)