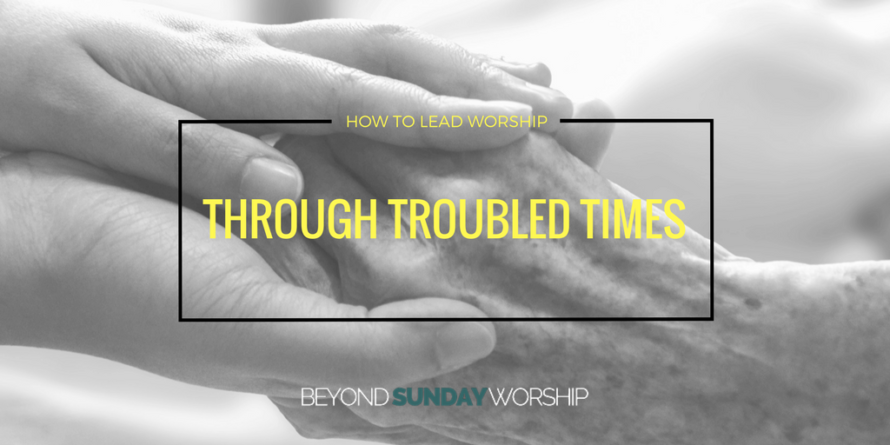 Have you ever been so frustrated you don't know what to do?
Or walked through a trial for so long that you've almost given up hope? Dealt with a mental illness that made you question your sanity?
Walked through sickness, divorce, death of a family member, or faced bankruptcy?
If not, you are leading people who are.
If you as a leader aren't sensitive to this, you've lost all relevance. Worship isn't just about organizing a clever setlist. It's not just about the isolated moments of singing songs together.
People are going through hell. We are living in troubled times. Our political landscape is in chaos. So many are divided. And to see what is happening in Houston, TX is heartbreaking, to say the very least.
If we're going to be effective worship leaders in our churches, we need to know how to lead worship in the midst of chaos. Because the truth is, no matter what is going on in the world around us, chaos is happening in the lives of our people. And we need to know how to lead them.
Because we're not just leading songs. We're not just warming the room up for an inspirational message. We are helping people process their pain. We're giving voice to those who don't have one. We're providing a song for those whose song has dried up years ago. We are helping lead people back to life.
For some, this kind of leadership is familiar and natural. You've experienced tragedy. You know what it's like to walk through pain. But you don't have to have cancer to lead cancer patients in worship. You don't have to lose a spouse to lead widows in worship.
But there are a few things you need:
3 Qualities of an Effective Worship Leader
1. Compassion – A worship leader cannot lead without compassion. Compassion is about identifying and empathizing with the people in the room. It's not just about you and your setlist. It's about feeling the pain of those you lead and helping them see Jesus more clearly.
2. Depth – Depth isn't about spiritual superiority. It's not a fake persona one puts on to impress. Depth is about going deep. You must have an ongoing pursuit of the heart of God. You should be ever growing, ever exploring, ever deepening your love for the Savior. A worship leader with depth is one who can be trusted. It is one who can be followed because you're going where you're leading.
3. Humility – Humility is more than just self-deprecation. It's living your life in the light of the Savior's glory. When you see His beauty, when you know His splendor, you know how small you are. That smallness causes you to live for something greater than making yourself known. Life becomes about the Spirit's activity in your everyday life. You're dependent. You're trusting. You're needy. And that's a great place for a servant of God to be.
Worship leader, how do you help your people worship through troubled times?
How do you connect with those who are suffering? You can leave a comment by clicking here.
Like what you read?

If so, please join over 5000 people who receive exclusive weekly online worship ministry tips, and get a FREE COPY of my eBook, Beyond Sunday! Just enter your name and email below: