My first introduction to worship music was not a pretty one.
I was forced to listen to it. I can remember the opening strains of "Change My Heart Oh God" like a knife in the heart. This was the music I could listen to?
Not the soundtrack an eleven year old boy wants to hear.
But eventually, I grew to love worship music. Mainly, because something happened to me.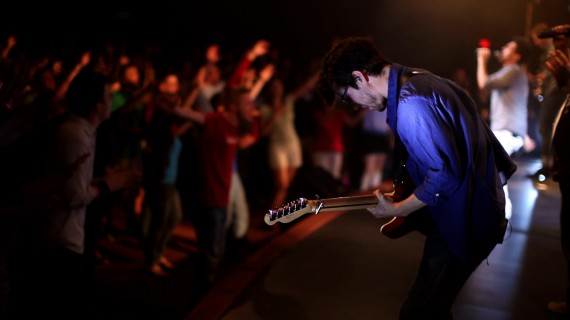 I encountered God. What happens when you encounter God? You're never the same.
Worship music became something much more personal – a guide to my growth in Jesus. It was less about the coolness of the music and more about the character of God I was discovering.
Certain artists, albums, and songs helped define my experience with God. Worship music brought my heart into alignment with my purpose.
I would not be where I am today if it wasn't for worship music.
I know that sounds dramatic and obvious for a worship leader to say, but I couldn't be more honest. The reason I lead worship is because I encountered Jesus. And certain songs have served me well.
What about you?
What I Love About the Worship Wars
If you're puzzled by that last heading, let me explain. I don't love it when people fight about music, style, and whether pounding drums are a viable call to worship.
I'm not a fan of church splits and animosity between the young and old generations.
I love that music is close to people's hearts. I love that at 75 year old Grandmother has her music – music that echoes as a soundtrack to her walk with God. I love that the 16 year old fireball for Jesus has music that defines his experience too.
Worship songwriters throughout history have given voice to their generation.
Music stirs. Music encourages. Music defines. Music brings us back.
What's the Point of all this Worship Music?
And that's why I believe in creating worship music. There's other music I could create, but I find there's nothing more satisfying than seeing people sing about and experience Jesus.
Truth transforms. When people sing truth, it takes an even deeper root in their soul.
Our soon to be released album – Undying Love – is no different.
– I pray that those who listen to it encounter truth that silences the enemy's lies.
– I pray that people become overwhelmed by the brightness of God's glory – that the through these songs the "things of earth" will grow strangely dim.
– I pray that people sing these prayers at the top of their lungs – that they lose their voices at home, in their car, and on their iPhone – that the music spreads across the world, lighting a fire in hearts.
Think about it: there's no shortage of worship songs. There's no shortage of worship albums. And I love it. I pray there will always be more and more worship songs – more and more worship albums to give voice to the glory of God in every generation.
So instead of arguing about whether you like someone else's worship music or not, take some time to appreciate the experiences with God that all this music represents.
And let's believe for more. May every generation be defined by a unique work of God and may new songs continue to be birthed.
Question: What is your favorite worship album of all time? Why is it your favorite? Share yours in the comments!
Are you a worship leader?

You may be interested in my FREE 20 part email course, "Next Level Worship Leading" - designed for local church worship leaders
| | |
| --- | --- |
| | We hate spam just as much as you |
Photo Credit: Allison Park Worship Live Recording